Salinas Cosmetic Dentist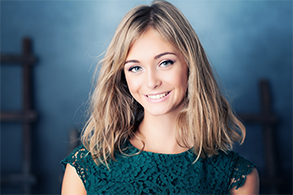 Dr. Hajdari places all-porcelain veneers to transform dull and damaged smiles in as few as two visits. We also offer professional teeth whitening and even have a trademarked incentive program called Bright White Forever to inspire healthy dental habits for the promise of a whiter smile. If you are looking for straighter teeth, we can align your smile using porcelain veneers for slight misalignments or braces for more significant adjustments.
Cosmetic Services Offered
To make that possible we offer the following cosmetic dentistry services: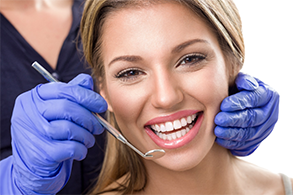 Everyone wants a brighter smile, so we make it easy to accomplish your goals with in-office or take-home whitening treatments. Our office uses a professional-grade whitening system to help you achieve a whiter smile: Opalesence professional teeth whitening. Within just a single appointment in our office, you can have dramatically whiter teeth—or you can brighten your teeth in the comfort of your own home in just a couple weeks.
Learn More
If you have multiple flaws that you would like to fix with your cosmetic dental work, now it's easier than ever. Our office offers personalized porcelain veneers that are crafted to your liking, masking a variety of imperfections all in one procedure. You can rid your smile of chips, cracks, gaps, and many other imperfections when you visit our office.
Learn More
There are instances where a patient may suffer from tooth decay or cavities. Instead of filling the area with a dark metal filling, our office offers tooth-colored fillings. This will help you repair your smile in a seamless, aesthetically pleasing way.
Learn More
Cosmetic Bonding
Sometimes patients may really desire to have cosmetic work completed but can't afford the time or costs associated with extensive treatments and procedures. Cosmetic bonding is a great alternative that's cost effective. You can fill the chips and cracks in your smile or even help your teeth look longer with tooth-colored composite resin. It's one of the easiest cosmetic treatments available.
Frequently Asked Questions – Cosmetic Dentistry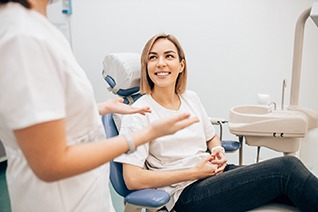 Are you ready to trade imperfections in your smile for seamless, bright, beautiful teeth? Our team at Blanco Circle Dental Care is here to help you with everything from teeth whitening to porcelain veneers! If you are unsure which treatment is right for you or have a few specific questions before moving forward, give us a call so we can schedule your initial consultation with Dr. Hajdari. If you'd simply like some more information before contacting our office, read on for the answers to a few frequently asked questions.
Does Insurance Cover Cosmetic Dentistry?
Typically, cosmetic treatments aren't covered by dental insurance since they aren't deemed medically necessary. That being said, there are some exceptions! Metal-free restorations are an aesthetically pleasing solution for decayed or otherwise damaged teeth, so they may be covered in your dental plan. The best way to find out for certain is to read the fine print on your policy or contact your insurance provider.
When Is a Service Considered Cosmetic?
A dental service is considered cosmetic when there is no "medical necessity" for the treatment. So, if you aren't struggling with issues with your bite, but you want to straighten your misaligned teeth, then porcelain veneers would be considered a cosmetic service.
What Is the Quickest Way to Improve My Smile?
If you have a milestone event coming up, like a wedding or graduation, then you may be wondering the quickest way you can improve your smile. The answer? Veneers and teeth whitening treatment! In fact, the in-office whitening agents and special light can brighten your smile up to eight shades in one visit. As for veneers, they can straighten, brighten, and perfect your teeth in as little as two appointments.
Will Cosmetic Treatments Improve My Oral Health?
Although cosmetic treatments are primarily known for their aesthetic benefits, there is no doubt they can help your oral health as well. For example, straightening your teeth can prevent bacteria, food particles, and plaque from getting lodged in the hard-to-reach areas of your mouth. Additionally, treatments like cosmetic bonding, veneers, and tooth-colored fillings can reinforce compromised teeth, and a professional whitening treatment can provide you with a smile you're proud to care for!
Will People Know I've Had Cosmetic Treatment?
Absolutely not! Dr. Hajdari will use his extensive experience, the latest techniques, and only the best materials to seamlessly perfect your smile. So, whether you are interested in fixing a minor flaw in one tooth or undergoing a complete smile makeover, they will ensure your results look and feel life-like.
Is Everyone a Candidate for Cosmetic Dentistry?
If crooked, discolored, or otherwise imperfect teeth are negatively impacting your self-esteem, then you may be a candidate for cosmetic dentistry! To ensure you are qualified, Dr. Hajdari will conduct a thorough exam at your initial consultation. If there are any untreated dental concerns, like gum disease, that need to be addressed beforehand, they can create a custom treatment plan to fix your oral health and aesthetic concerns. That way, you can safely get the beautiful, long-lasting results you deserve.
Improve Your Smile with the Help of Your Dentist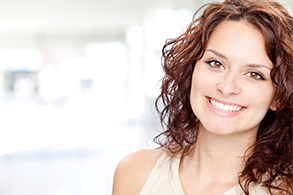 The first step you need to take when considering making improvements to your smile is scheduling a consultation with your dentist. This is critical to deciding which treatments or procedures are best for you. Your dentist will be able to evaluate the current state of your smile, discuss your budget, and lifestyle to create your customized dental treatment plan.
If you're interested in moving forward, all you have to do is call our office. We would be happy to schedule a consultation for you to meet with one of our expert cosmetic dentists. After all, our whole office is committed to helping patients reach their optimal oral health—this goes for the strength of your smile and its appearance. Plus, we're here to help you maintain your results after they're completed with regular dental checkups and cleanings!
Have all of your questions and concerns addressed during your next appointment!