Salinas Teeth Whitening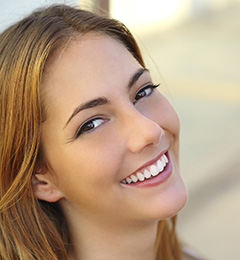 Whiter teeth can give you that added boost of confidence to smile like you really mean it. With advanced professional teeth whitening, Blanco Circle Dental Care can give you a whiter, brighter, more beautiful smile in just one visit!
Dress Up Your Smile with Professional Teeth Whitening
A beautiful smile is the perfect accessory for any occasion. However, for those of us living with stained or discolored teeth, a smile may be the last thing we're willing to show off. Dr. Klugman, your dentist in Salinas, can whiten your smile by several shades quickly and easily with one of a few safe, highly effective teeth whitening options.
Professional whitening procedures are superior to OTC options in a number of ways:
Professional whitening gives you the benefit of a dentist's guidance, greatly reducing the chances that your teeth or gums will be harmed by your quest for a brighter smile.
OTC products usually only remove surface stains, making it impossible for you to achieve truly stunning results. Professional options can remove even the stains that have been set in your teeth for years.
Professional teeth whitening in Salinas is much faster than OTC products.
Teeth Whitening Your Way
We offer a variety of teeth whitening options, including:
Opalescence in-office With this innovative system, we simply apply a strong whitening solution to your teeth. It stays on your teeth for about 15 minutes while it breaks up stains. During your appointment, we can apply the gel up to six times in order to achieve the results you want. Unlike other in-office whitening treatments, Opalescence is a chemically-activated procedure, which means that it doesn't require any special light to work its magic.
Opalescence take-home treatment. This works a bit more slowly than its in-office counterpart, but the underlying principle is the same. You use custom trays to apply a whitening gel to your teeth every day, and after about two weeks, you should have the radiant grin you've been wanting.
A hydrogen peroxide-based treatment that takes as little as 30 seconds!
Regardless of which whitening method you're interested in, we'll begin your smile-transforming process with a thorough consultation and exam so we can make sure your teeth are healthy enough for whitening. We'll also educate you about the steps you can take to ensure that your post-procedure results last for as long as possible.
Bright White Forever
No matter how diligent you are about taking care of your teeth, they will become stained again after your initial whitening procedure. But we want you to enjoy a lifetime of brilliant smiles, which is why we offer our Bright White Forever program. For a low initial membership fee of just $89, you can enjoy the benefits of take-home professional whitening forever. All you have to do in return is attend regular cleanings and checkups and give us at least 48 hours' notice if you have to cancel an appointment. It's that easy!
Please contact us if you would like to learn more about how you can achieve a dazzling set of teeth.