Salinas Teeth Whitening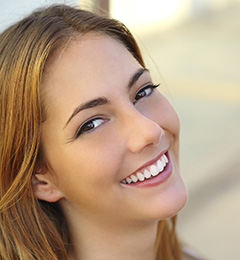 Whiter teeth can give you that added boost of confidence to smile like you really mean it. With advanced professional teeth whitening, Blanco Circle Dental Care can give you a whiter, brighter, more beautiful smile in just one visit!
Dress Up Your Smile with Professional Teeth Whitening
A beautiful smile is the perfect accessory for any occasion. However, for those of us living with stained or discolored teeth, a smile may be the last thing we're willing to show off. Dr. Klugman can whiten your smile by several shades quickly and easily with one of a few safe, highly effective teeth whitening options.
Teeth Whitening Your Way
We offer a variety of teeth whitening options, including Opalescence in-office and at-home systems, as well as a hydrogen peroxide-based treatment that takes just 30 seconds! You also have the option to whiten comfortably and conveniently in your own home with Opalescence Take-Home Whitening Gels. If you choose this route, we will provide you with comfortable, personalized trays and professional-grade whitening solution, as well as instructions for proper use. You'll see results with only a few applications, and before you know it, you'll be showing off a whiter, more confident smile!