Implant-Retained Dentures – Salina, CA
Secure Your Denture with Dental Implants
If you've lost all your teeth in the top or bottom arch, a traditional denture is an effective solution to replace them; however, they will always have their limitations. You're not out of options. You can enjoy the next best thing to your real teeth using dental implants in Salinas. We can secure your denture to your jawbone to give you a nearly perfect replica of your natural smile.
How Do Implant-Retained Dentures Work?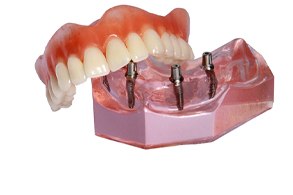 A traditional denture has been used for decades to treat significant tooth loss. An acrylic base holds your prosthetic teeth, which rests on top of your gum tissue and is held in place using suction or an adhesive. Although they've undergone several improvements over the years, they will never quite feel natural.
An implant-retained denture resolves the common disadvantages of the traditional method. 4 to 10 dental implants act as tooth roots, anchoring your denture in place. You'll never need to worry about slipping or irritation again while benefiting from a solution that's proven to last for a lifetime with the right aftercare.
Am I a Candidate for Implant-Retained Dentures?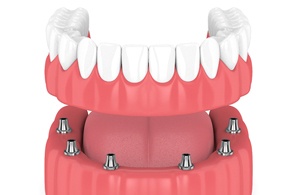 If you've lost all your teeth and a conventional full denture didn't give you the results you wanted, you might be a candidate for dental implants. We'll need to perform a thorough consultation to ensure they are right for you. Most patients who have good oral and general health can benefit from them, but we will still need to review a CT scan of your jaw to ensure there aren't any issues below the surface, like an infection or bone loss. Depending on the results of the scan, you may need additional procedures before your placement surgery, like periodontal therapy or bone grafting.
The Implant-Retained Dentures Procedure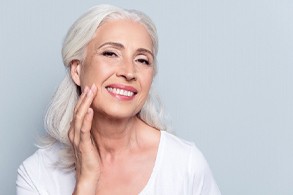 After you've recovered from any previous procedures, you're scheduled for your implant placement surgery. An oral surgeon will strategically place titanium implant posts into your jawbone to serve as new roots. Once the posts are in place, you'll spend the next few weeks recovering, allowing your bone to fuse to them through a process called osseointegration.
When your bone has healed, you'll return to our office to be fitted for your denture. It will be attached to the posts using special fixtures, called abutments. Your denture will be stabilized, allowing you to speak, smile, and chew without any concern.
Benefits of an Implant-Supported Denture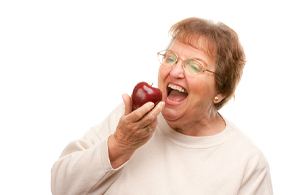 With the implant posts acting as tooth roots, you'll enjoy a variety of benefits that aren't possible using a traditional denture, such as:
Schedule Your Consultation
If you're ready to invest in a complete smile, it's time to see if you're a candidate for an implant-retained denture. Contact our office today to schedule your consultation for dental implants.