Emergency Dentist – Salinas, CA
Your Emergency Dentist Can Save Your Smile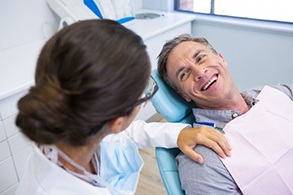 If you search for a definition for the word "emergency," you're likely to find something along the lines of "a serious, unexpected, and often dangerous situation requiring immediate action." In fact, an emergency is usually scary, and nerve-wracking and often happens at the worst time possible. In the case of a dental emergency, you need a dentist and team who are ready to care for you with understanding, compassion, and professionalism. That said, our team is always here to provide fast and effective treatment when you need it. Keep reading below to learn a little more about how to get your smile the help it needs when you suffer a dental emergency in Salinas.
Why Choose Blanco Circle Dental Care for Emergency Dentistry?
Same-Day Appointments Available
Friendly and Experienced Dental Team
Sedation Dentistry Options Available
What to Do in a Dental Emergency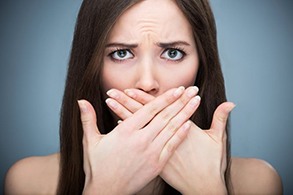 When you sustain a dental emergency, it's important to remember that time is of the essence! Here are three easy-to-follow steps:
Call our office: We'll let you know when you need to come in and what you need to do in the meantime. We're proud to offer same-day appointments, but you can rest assured that we'll also give you over-the-phone instructions to help with your discomfort.
Let us perform an emergency exam: At our office, we'll perform an emergency exam and take X-rays if necessary to determine the source of the issue. Based on our findings, we can then create a custom treatment plan to begin getting your smile back on track.
Get the care you need: During the appointment, we can relieve your pain and then quickly begin addressing the issue. We also offer sedation dentistry if necessary. Some common services that we render during emergency dental visits include fillings, crowns, root canal therapy, and extractions.
The Most Common Dental Emergencies
Our team is well-equipped to handle all sorts of dental emergencies; whether your situation is the result of poor oral health, facial trauma, or something else, we're ready to help! Since each situation is different, you'll need to call us, describe your symptoms, and come in for a visit before we can accurately assess the best treatment for your smile. While you're waiting for your appointment, you can use the following tips to keep yourself at ease.
Understanding the Cost of Dental Emergencies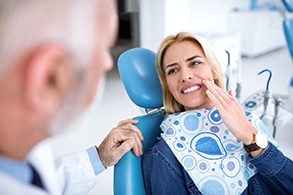 When it comes to treating dental emergencies, there are several factors that must be considered when viewing the cost of treatment. That said, you shouldn't let cost be the factor that determines whether or not you seek the help you need. Upon visiting us for a consultation, we can walk you through your treatment and all of the specific price points so that when it's time to pay your bill, there aren't any surprises.
Keys to Preventing Dental Emergencies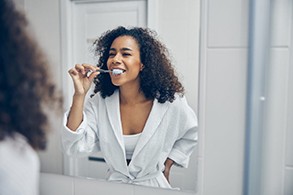 Fortunately, there are several things you can do to prevent dental emergencies. Here are some key tips:
Wear a mouthguard if you're participating in sports or physical activities with the potential for facial impact. Custom mouthguards will offer superior protection and comfort.
Avoid chewing on particularly hard and crunchy foods like popcorn kernels, nuts, ice, and more.
Don't use your teeth as tools, to open packaging, or to hold objects when your hands are full.
If you suffer from bruxism and grind your teeth at night, you should consider speaking with us about a custom nightguard appliance.
Practice excellent oral hygiene at home and schedule routine preventive care with us.
Dental Emergency FAQs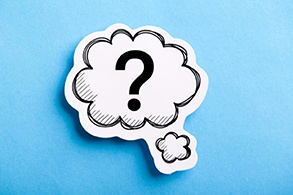 Dental emergencies have a knack for occurring when you least expect it—and certainly when it's least convenient! That said, you might have concerns about what you need to do when the time comes for you to handle an emergency situation. Here are a few of the most frequently asked questions that we receive about dental emergencies so that you can feel a little better prepared about how to best act and ensure that your smile isn't in any long-term danger.
What Counts as a Dental Emergency?
A dental emergency is anything that is bleeding, broken, or causing you pain in the oral cavity (i.e. mouth) or surrounding area. A dental emergency usually requires prompt treatment. Some of the most common emergencies include:
Knocked out tooth
Dislodged tooth
Broken tooth
Broken filling, crown, or other restoration
Toothache or abscess
Lesion to the soft oral tissues
Something stuck between teeth
Anything else that just doesn't feel quite right
How Can I Manage Dental Pain?
A dental emergency is almost guaranteed to cause some amount of pain. You can feel free to take an over-the-counter pain medication as directed. Remember to drink plenty of water and avoid alcohol while you are taking pain medicine -- and do not use it for prolonged periods of time. Come see us for treatment to get out of pain and on with your life!
What If I've Broken a Filling or Crown?
Sometimes, a broken dental restoration can be temporarily repaired with toothpaste or a denture adhesive. Covering up any jagged edges with dental wax found at the pharmacy will prevent injury to the soft oral tissues.
Does Dental Insurance Cover Emergencies?
Dental insurance should cover a portion of the cost of a restorative treatment, like a dental crown, root canal, or extraction. We will work to maximize your coverage to ensure you get the most help from dental insurance.