Salinas Dental Crown & Bridge
If you're missing teeth as the result of an accident, injury, or disease, you don't have to live with the gaps and spaces forever. In fact, it's vital that missing teeth be replaced as soon as possible to avoid more significant damage, such as shifting and jawbone loss. For patients with missing teeth, a crown and bridge can return your smile to its natural state.
What is a Dental Crown and Bridge?
A bridge is a prosthetic tooth (or teeth) attached to one or more neighboring teeth prepared with a dental crown or crowns. A fixed bridge comprises three basic elements: the false tooth or teeth and two supporting crowned teeth. If there are no healthy teeth available adjacent to the bridge, a metal anchor, known as a dental implant, may be used as an alternative to stabilize the bridge.
A dental crown and bridge accomplishes the following:
Enables you to chew and speak normally
Restores natural occlusion (bite)
Eliminates shifting of other teeth
Relieves stress on remaining teeth
Frequently Asked Questions - Crown and Bridges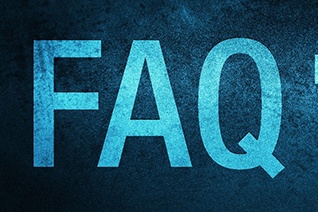 If you've lost one or more teeth in a row, crowns and a bridge might be the solution for you. As the most traditional option to treat consecutive tooth loss, it's proven effective to restore the function and appearance of your smile. Although you're excited to replace your missing teeth, it's normal to have a few questions before you're ready to commit to the procedure. We'll address any concerns during your initial consultation. In the meantime, here are the answers to a few of the most common questions we're asked to help you make the right decision for your smile.
How Do I Maintain My New Bridge?
Your bridge and crowns aren't subject to tooth decay, but you still need to maintain your oral hygiene. Your underlying teeth can develop cavities or gum disease if you don't brush and floss your teeth. It's best to use a soft-bristled toothbrush and nonabrasive toothpaste to clean all surfaces of your teeth and your fixed bridge at least twice a day. You'll also need to floss between each tooth and around your restorations nightly. Don't forget to visit your dentist at least twice a year for a cleaning and checkup.
Is a Crown and Bridge Right for Me?
If you've lost one or more teeth in a row and need a convenient solution to rebuild your smile, you might be a candidate for a fixed bridge. You must have healthy teeth to support the bridge and commit to your oral hygiene, but you'll also need to permanently alter your tooth structure. If you're looking for a more permanent solution that doesn't rely on other teeth for support, an implant-retained bridge might be a better option.
Does Dental Insurance Cover Crown and Bridges?
Although every policy differs, many dental insurances cover a portion of the cost of a bridge and crowns after paying your annual deductible. A member of our team will work on your behalf to file the necessary forms to lower your out-of-pocket cost. We will take the time to explain how your coverage is being used and your payment options of any remaining balance, like third-party financing.
How Long Does a Fixed Bridges Last?
A traditional fixed bridge can last for an average of 5-7 years, but it's not uncommon for it to last for a decade or longer with the right aftercare. You can enjoy a solution that can last for a lifetime by choosing an implant-retained bridge, allowing you to make a long-term investment in your smile.
What Happens If I Do Not Replace a Missing Tooth?
Every tooth is essential for a healthy, functional smile. Losing even one causes serious consequences for your oral health, such as cavities, gum disease, and additional tooth loss. It's best to replace any missing teeth as soon as possible to preserve your natural smile. Your bridge and crowns will match the appearance of your real teeth to blend in seamlessly with your remaining teeth.