Dental Implants — Salinas, CA
Permanent, Natural-Looking Tooth Replacements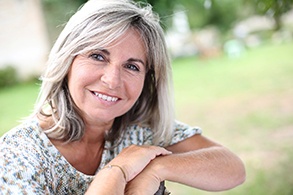 Dental implants are a durable solution that look, feel, and function just like natural teeth! This is possible thanks to a titanium anchor that is surgically implanted into your jawbone. If you think a dental implant might be the right choice for you, Dr. Hajdari and Dr. Raissi will conduct a thorough evaluation of your bone structure and oral health. If he determines you are a good candidate for the procedure, he can perform the entire treatment right here in our office. Give Blanco Circle Dental Care a call to learn more!
Why Choose Blanco Circle Dental Care for Dental Implants?
Dental Implants Placed and Restored In-House
Mini Dental Implants Available
Flexible Financing Options Provided
What Are Dental Implants?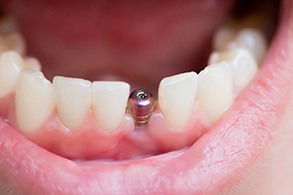 Dental implants consist of three main components to replace teeth. This includes the titanium post that sits within the jaw, the crown, bridge, or denture that attaches directly to it, and the abutment that connects them together to provide stability. Once fully healed and integrated, your dental implant should feel nearly indistinguishable from your neighboring teeth. Due to their incredible longevity, reliable functionality, and outstanding esthetics, dentists regularly recommend them over traditional options. While they can be more expensive upfront, the investment is largely considered to be worthwhile compared to other options which are far more likely to require replacement later.
The Dental Implant Process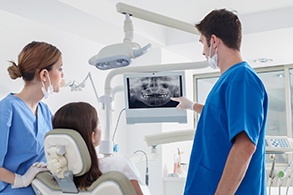 Dental implant treatment is typically completed in multiple steps over the course of several months. Here is a breakdown of each step along the way to your newly restored smile:
Step 1: Initial Consultation – Dr. Raissi or Dr. Hajdari will thoroughly evaluate your bone structure and oral health to determine if you are a good candidate for dental implants.
Step 2: Implant Placement – The implant or implants are surgically inserted into the jawbone beneath the gums. While many dental practices have to send their patients to an outside specialist for this step, Blanco Circle Dental Care offers start-to-finish dental implant treatment!
Step 3: Dental Implant Osseointegration & Abutment – You will be given 4 to 6 months to let the dental implant heal and fuse with the surrounding jawbone. Once this process is complete, you will return to our office so Dr. Raissi or Dr. Hajdari can place an abutment, which is the piece that connects an implant to an artificial tooth or other dental prosthetic.
Step 4: Restoration –Just a few weeks later, you will be ready for the final visit, in which your new tooth, bridge or denture will be securely attached to your dental implant(s).
Benefits of Dental Implants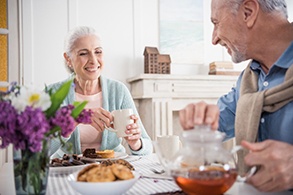 Dental implants are an incredibly effective and reliable way to restore missing teeth. In fact, according to research published in The International Journal of Oral & Maxillofacial Implants, dental implant treatment has a success rate of up to 95%! That means out of the millions of dental implants placed each year in the U.S., only about 5% of them fail.
Who Dental Implants Can Help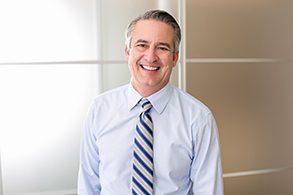 If you are missing one or more teeth and feel unhappy with the way your smile looks, you are likely a good candidate for dental implants. Excellent candidates for dental implants must have:
Healthy gums
Adequate jawbone thickness
Excellent oral hygiene habits
If you have gum disease or a deteriorated jawbone after years of wearing dentures, your dentist may recommend gum disease therapy or a bone graft to fortify the jawbone before approving dental implant treatment. With that said, they can be used to replace any number of teeth!
Missing One Tooth
Dental implants imitate nature as the surrounding bone tissue fuses with the titanium post, which creates a stable foundation for your restoration. After the anchor is secured, Dr. Raissi or Dr. Hajdari will attach a color-matched porcelain crown that will blend flawlessly with your natural teeth.
Missing Multiple Teeth
An implant bridge replaces missing teeth when there are still healthy ones remaining in the gum line. It can be fixed or removable. By replacing the missing teeth as well as their roots, dental implants keep the remaining natural teeth healthy and where they should be in the gum line. Without a comprehensive tooth replacement, the jawbone may shrink and cause the remaining teeth to get loose, shift around, or fall out.
Missing All Teeth
If you have lost several teeth, dental implants can act as anchors for a denture. That means no more worrying that your teeth will slip around or fall out when you are least expecting it -- dental implants add stability to the bite and reassure patients that their restorations will remain securely in place while eating, speaking, and laughing.
A complete denture retained by dental implants replaces all the missing teeth in the upper or lower jaw. It won't slip around or rub blisters in your soft oral tissues. You won't need an implant for each missing tooth -- a complete denture can be held in place on as few as six dental implants.
Learn More About Implant Dentures
Mini Dental Implants
At Blanco Circle Dental Care, we also place mini dental implants when the traditional method isn't the best solution for your oral health needs. Just like the name suggests, mini dental implants are like traditional implants -- but smaller. At their largest, mini implants are half as wide as traditional ones.
Mini dental implants can be placed and restored with prosthetic teeth in just a few hours. They can secure a single crown, a bridge, or new dentures. Mini implants can also be used to retain an existing denture that is loose or uncomfortable.
The procedure for mini dental implants is completed in a single appointment and requires only minimally invasive surgery that can be performed under local anesthesia. Healing times are shorter compared to traditional dental implants. That makes mini dental implants a good option for patients with limited budgets, people with certain health problems affecting the immune system, or those who would need to undergo a bone augmentation procedure before receiving their implants.
Compared to traditional dental implants, mini dental implants offer the following benefits:
Can be completed on the same day
Minimally invasive
Usually require only local anesthesia for total comfort
May be more affordable than conventional implants
Eliminate the need for preparatory bone graft procedures
Can secure an existing denture
Understanding the Cost of Dental Implants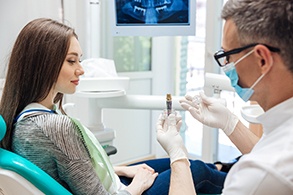 As the only comprehensive tooth replacement option currently available, dental implants in Salinas are the premier choice for giving you back a healthy, beautiful, confident smile. They do come at a higher price than other tooth replacement options, though. Many patients are initially discouraged by the seemingly-high cost of dental implants -- but there's no reason to be! There are a number of ways you can make your quality tooth replacement fit within your budget. Keep reading to find out what they are.
How Much Do Dental Implants Cost?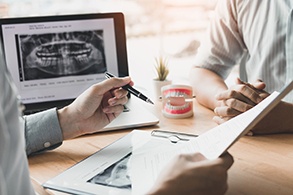 The total price of a dental implant procedure is dependent on a few factors and can vary widely from patient to patient. To give you a better idea of what your dental implants will cost, your implant dentist will schedule a consultation to evaluate three things: the health of your jawbone, the location of the missing teeth, and how many implants you will need. Each of these factors plays a role in the final price tag of your implant procedure.
Health of your jawbone: Many patients need to have a preliminary procedure, like a bone graft or sinus lift before they can get dental implants. These bone augmentations add to the total cost of your procedure.
Location of the missing teeth: Because replacing front teeth requires a more delicate procedure, it may be more expensive to place a dental implant in the front of the smile than the back.
How many implants: Of course, the number of implants you need will decide how much material must be used and how complex the procedure is, thus influencing the total cost of your care.
How to Make Dental Implants Affordable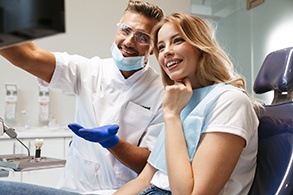 Are you concerned about the cost of a dental implant procedure? You will not necessarily have to pay the full amount out-of-pocket. Our team is well versed in ways to help make your dental care more affordable!
For example, putting funds in an FSA (Flexible Spending Account) towards your dental implants can help to reduce the cost of your tooth replacement in Salinas. Unlike with dental insurance, you are free to use the money in an FSA to both the implant post and crown. Talk to us about how you can strategically use an FSA at the end of the calendar year to ensure it covers both portions of the implant procedure.
You can also make use of CareCredit, a third-party financing option that can make even the most expensive dental treatments fit into a reasonable monthly budget.
Maintaining & Caring for Your Dental Implants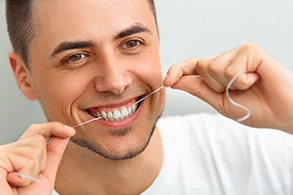 Taking care of dental implants is very similar to taking care of your natural smile. To help ensure your dental implants last as long as possible, be sure to:
Brush twice a day for a full two minutes each time
Floss at least once a day
Visit us at Blanco Circle Dental Care twice a year for a dental exam and professional cleaning
If you follow these 3 easy tips, you can expect your dental implant to last for decades – or perhaps even the rest of your life! Meanwhile, the dental prosthetic attached to your dental implant will likely need to be replaced every 5 to 15 years due to normal wear and tear.