Veneers – Salinas, CA
Achieve a Perfect New Smile with Veneers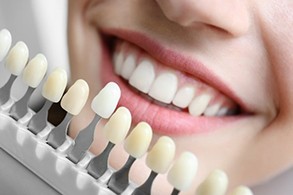 Your smile is one of the first things that people will notice about you, so why not take steps to ensure that your pearly whites look their absolute best? Here at Blanco Circle Dental Care, we can use veneers to elevate your smile from bland to brilliant in as little as two appointments. Dr. Hajdari will be happy to sit down with you to discuss your smile goals and whether veneers are the right choice for you. No matter what type of aesthetic issues are troubling your pearly whites, they can likely be addressed with the help of veneers! Continue reading below to find out more about how veneers can help you achieve a perfect new smile, or feel free to call our office to schedule a consultation.
Why Choose Blanco Circle Dental Care for Veneers?
Friendly & Experienced Dental Team
Results You'll Be Proud to Show Off
Affordable Financing Options
What Are Dental Veneers?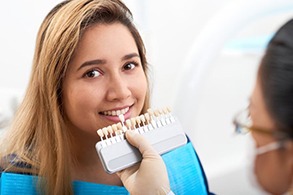 Veneers are thin, protective shells that are bonded to the outer surfaces of your teeth in order to enhance their appearance. They're crafted from a special dental porcelain that's incredibly durable and resistant to staining, and they're customized to fit your smile precisely. This incredible treatment option can target multiple cosmetic flaws at once, including discoloration, chips and fractures, gaps between teeth, and more. While other treatment options exist that can certainly target all of these issues individually, veneers are able to address them simultaneously!
The Process of Getting Veneers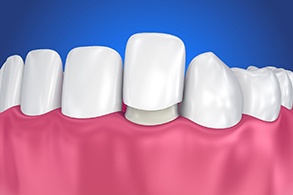 After an initial consultation at our office, you'll be scheduled for the first phase of treatment. Your teeth are cleaned, and a small amount of enamel is removed to ensure that the veneers fit nicely. Impressions are taken and sent to the dental lab where your veneers will be designed with your specific needs in mind. This process can sometimes take a couple of weeks, but it's well worth the wait! In the meantime, you'll be given temporary veneers to wear until your final ones are bonded to your teeth.
The Benefits of Veneers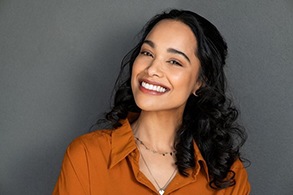 Veneers are one of the most sought out cosmetic treatment options because of the several impressive benefits they offer, such as:
Natural-looking and long-lasting results (10 – 15 years with proper care).
Improves the color, size, shape, and proportion of your teeth.
Results in as little as two appointments.
If you're ready to achieve the perfect smile you've always wanted, don't hesitate to contact our office today to schedule a consultation.
Veneers FAQs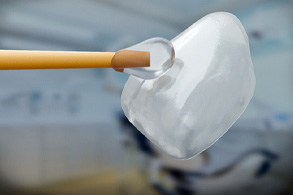 By now, perhaps you think veneers in Salinas sound intriguing. The porcelain shells, after all, could greatly beautify your smile! That said, you likely want to learn more about them first. Knowing the relevant details will confirm whether veneers are right for you. Luckily, Blanco Circle Dental Care can help: here are the answers to some oft-asked veneer questions. Please read them over before deciding anything. If the facts you want aren't mentioned, just call our office for guidance.
Are Veneers Permanent?
No, veneers aren't permanent. They can (and do) need replacing after enough time passes. However, the process of placing them is irreversible.
You see, dentists "prep" teeth for veneers by shaving bits of their enamel. Doing so ensures the shells will fit correctly and stay secure. Still, the removed enamel won't grow back; it's lost forever. As a result, veneered teeth always need crowns or veneers for protection. Otherwise, they'll be at risk of tooth sensitivity, bacterial infection, or worse.
Is It Painful to Get Veneers?
In truth, veneer placement isn't at all painful. Dentists work hard so that it goes smoothly and comfortably.
Firstly, they'll numb your mouth before the treatment takes place. This act keeps you from feeling aches during the procedure. At most, you'll only sense light pressure as the veneers are placed over your teeth.
Of course, you may feel slight discomfort after the treatment is done. Soreness is more likely if you have eight or more veneers placed. Alternatively, you might experience "bonding sensitivity" – sharp pain from biting into something hot or cold. However, rest assured: such aches are temporary and can be managed with painkillers.
Is There Anything I Can't Eat with Veneers?
Technically, no – veneers are durable enough to handle most diets. Even so, there are foods and drinks you're better off avoiding. Some items can put temporary and permanent veneers at risk.
Consider temporary veneers. Their acrylic material can chip or break, so you'll want to lay off hard foods – ice, raw fruits, veggies, etc. Dark-pigmented products are also bad, as temporary veneers stain quite easily.
While slightly different, restrictions could also apply to permanent veneers. Avoid hot or cold foods, for example, if your teeth are sensitive after placement. Furthermore, limit your alcohol intake; this beverage can weaken the cement that holds veneers in place.
Do Veneers Change Your Face?
As a matter of fact, yes – veneers do change your face. Fortunately, however, this change is for the better. Treatment will likely help your face look fuller!
In reality, your mouth loses elasticity and muscle tone with age. This loss then causes your face to look saggy and old. Veneers, though, offer extra support for the mouth's muscles and accentuate your cheekbones. Consequently, the treatment can provide the same benefits as a facelift!
Talk to your dentist if you want to know more about face shape changes. They'll happily explain how veneers can impact your looks during a consultation.