Meet Your Salinas Dentist, Dr. Partridge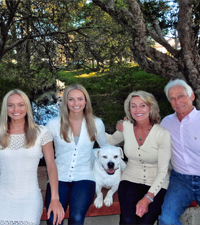 Dr. Partridge is a skilled and talented dentist with more than three decades of dental experience. He joined our team in 2015, and Dr. Partridge loves putting his years of experience to work helping patients achieve and maintain their healthiest smiles. Dr. Partridge specifically enjoys having the opportunity to help patients restore damaged or flawed teeth to healthy, beautiful smiles. He loves seeing the improvement in their oral health and their confidence.
Dr. Partridge studied at San Jose State University, and he earned his doctor of dental surgery from the University of California at San Francisco School of Dentistry. He has also completed specialized restorative training through the Las Vegas Institute for Cosmetic Dentistry. He currently maintains professional membership in the American Dental Association and the state of California Dental Association.
A native of Mill Valley, Dr. Partridge and his wife, Winne, are the proud parents of twin daughters, Hailey and Sierra. Hailey and Winne are both flight attendants for United Airlines, and Sierra has followed her father into the field of dentistry. She's studying to become a dental hygienist. Dr. Partridge and his family enjoy staying active, including participating in surfing competitions. He is also a member of a competitive softball team that won a national tournament. Dr. Partridge is so proud to be a member of the dental profession, and he feels profoundly blessed to have such amazing friends and family members.