December 30, 2018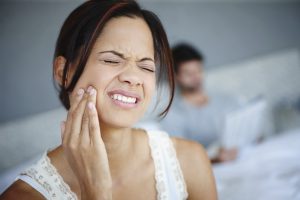 Knowing what to do when a dental emergency occurs can make a trip to your emergency dentist less painful and more productive. At the very least, you should know the typical symptoms of a dental emergency and how to manage any discomfort you may experience. It's also a good idea to have clove oil or other dental supplies on hand.
Key Symptoms That a Dental Emergency Is Occurring
Call your dentist right away if you notice any of the following problems:
A toothache that occurs quickly and without warning. This can signal a broken or cracked tooth, an aggressive infection, or the early stages of mouth trauma.
A numbing sensation in your mouth, lips, or face. This can signal a wide variety of problems, from a pinched nerve to the early stages of oral cancer.
An unexpected cracking or crunching sensation in your mouth. This problem can indicate a fractured tooth or problems inside your jaw or facial bones.
A bridge, crown, filling, or implant that loosens or falls out of your mouth.
Fever accompanied by pain or numbness anywhere in your face or mouth.
Any of the above symptoms when accompanied by a severe and unexpected headache.
If you're unable to see a dentist after noticing any of the above problems, then go to your emergency room or contact your regular physician for advice and support.
Five Steps You Should Take Right Away
Obtaining medical help is your first priority in a dental emergency. Aside from that, there are some steps you can take to manage any symptoms you may experience in the meantime. These include:
Using an ice pack or other cold source to minimize swelling. Avoid placing ice on the tooth itself, as this can worsen your symptoms and possibly cause nerve damage.
Take an over-the-counter pain reliever such as ibuprofen or acetaminophen.
Save any fillings, tooth fragments, etc., for the dentist to examine later on. It's best to wrap the object in a cool, wet rag and keep both items in a resealable plastic bag,
if a filling comes out, use a piece of sugar-free gum or emergency filling compound, which is available at many pharmacies, as a short-term fix.
Rinse the inside of your mouth with warm, salty water. This will help to minimize risk of infection.
Clove oil is a time-tested toothache remedy that belongs in any well-stocked first aid kit. You'll find this product online and at most retail pharmacies.
A little preparation can go a long way when the unexpected occurs. Use the tips in this post to safeguard your teeth and gums while you're waiting to see your emergency dentist. When everything gets back to normal, remember to give yourself a well-deserved pat on the back for your prudence and foresight. After all, you deserve it.
About the Author
Dr. Ed Hajdari has been practicing dentistry for more than 20 years. A member of the Academy of General Dentistry, he keeps his skills sharp through ongoing training and study. You can reach his office online or by calling (831) 422-7838.
Comments Off

on Five Dental First Aid Tips from an Emergency Dentist
No Comments
No comments yet.
RSS feed for comments on this post.
Sorry, the comment form is closed at this time.