June 16, 2022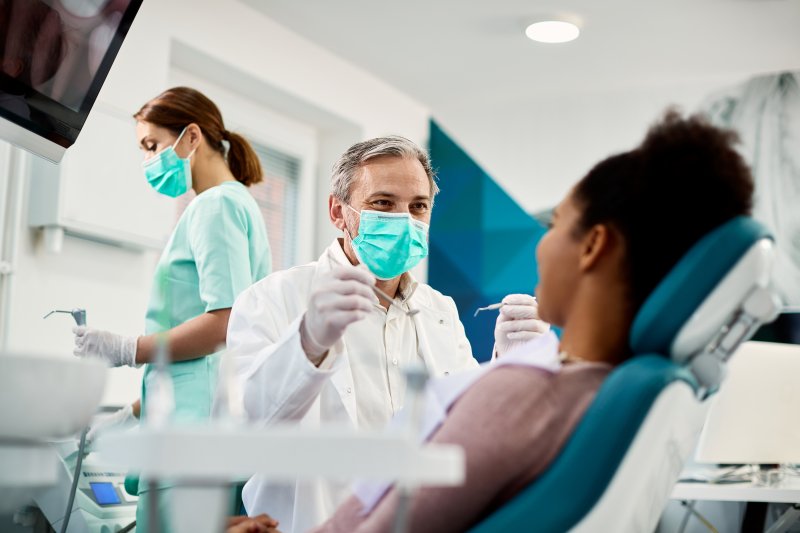 As anyone will tell you, life can get messy. Circumstances change, things come up, and you occasionally have to revise and re-draft your plans. Among other things, that fact may mean you don't attend your regular dental checkup for a long time. But it's never too late to get your oral health back on track! That said, you may need a refresher on what to expect when you return to the dentist's chair. To help out, here's a summary of four things that'll happen at your upcoming dental visit.
You'll Need to Update Your Medical History
Before anything else, your dentist will ask for updates on your health — illnesses or surgeries since your last appointment, new medications, etc. They might also take your blood pressure to evaluate your overall health. Dentists take these updates seriously, as they're often the medical providers people see most frequently.
While looking over your current medical history, your dentist may find a health concern. If so, they might recommend you also see your primary care physician.
You'll Have a Thorough Oral Exam
Next, your dentist is likely to conduct a thorough oral exam. That means assessing your teeth, cheeks, lips, and gums for various oral conditions.
This step is an essential part of your appointment, as it can potentially save you time, money, and pain down the road. The examination may find that you have cavities, gum disease, infections, or bite and jaw issues. Screening can even show whether you have signs of diseases like diabetes and oral cancer.
You May Need New X-Rays
There's only so much one can see with the naked eye. Therefore, your dentist will want to take new X-rays during your oral exam.
X-rays are an excellent tool for dental practices. By providing an extreme close-up view of cavities, decay, and even jaw cysts, they let specialists decide the best treatment for your oral issues. After your X-rays are taken, your dentist will sit down with you to go over their findings.
You'll Probably get a Cleaning
To finish things off, your dentist may send you to a dental hygienist for a cleaning. In itself, this ought to only take an hour.
For a teeth cleaning, a hygienist will remove nasty gunk like plaque and tartar from your teeth with a scaler. They'll then polish your teeth before flossing them thoroughly. Finally, they will teach you how to brush and floss at home correctly.
As you can see, a dental checkup after an extended time away isn't too tricky. Talk to your local dentist about getting one of your own if you haven't visited for a while!
About the Practice
Blanco Circle Dental Care is based in Salinas, CA. As led by Drs. Ed Hajdari and Adrian Chehrehsa, their team is highly-recognized for providing excellent dental care. The practice's services include preventive, cosmetic, and restorative dentistry, as well as sedation and emergency services. Overall, patients can feel confident they'll receive high-quality results from a caring team. For more information or to book an appointment, you can reach them at their website or by phone at (831)-422-7838.
Comments Off

on 4 Things to Know When You Haven't Seen Your Dentist Lately
No Comments
No comments yet.
RSS feed for comments on this post.
Sorry, the comment form is closed at this time.