September 14, 2022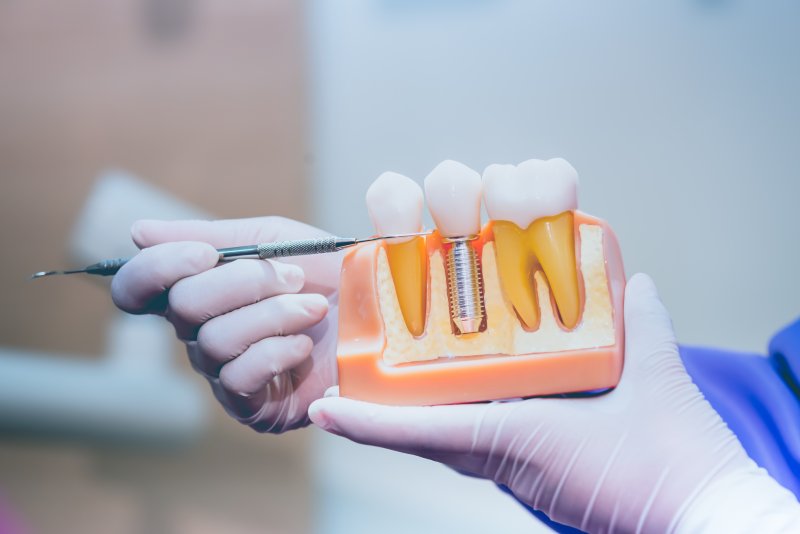 So, let's say you're considering dental implant treatment. Based on what you've heard, it could restore your smile in just a few visits. However, your research into the surgery has led you to some confusing, unfamiliar words. What should you do? Learn what they mean, of course! That way, you'll better understand how implants work and whether they're right for you. Luckily, your Salinas dentist can help with the process. Here are four dental implant terms you should know before deciding on treatment.
Abutment
As it turns out, a dental implant only holds your replacement tooth. It does so with an abutment, a connector that a dentist builds into or attaches to its top. This portion holds the dental crown — the real "replacement tooth" — and ensures it won't fall or slip.
Ceramic
Ceramic is a surface material used to create dental implants. More specifically, it's a hardened clay that serves as an alternative to titanium implants.
Compared to metal implants, many people prefer ceramic ones for their natural look. Plus, they're also available in ivory that appears similar to existing teeth and roots.
On the other hand, ceramic implants have practical benefits. Some have conical threading at the base for easier attachment to your jawbone jaw. They also work better for patients who have metal allergies.
Osseointegration
Osseointegration comes from Greek and Latin words meaning "bone" and "to make whole." It's the fusion process that takes place between a dental implant and your jawbone.
This fusion is essential to dental implant success. Without it, your false tooth won't hold steady and will eventually fail. From there, a dentist may have to extract it and give you a new one.
Mini Dental Implants
As their name implies, mini dental implants are smaller than traditional ones. They tend to be half as wide as conventional implants at their largest.
Dentists tend to recommend mini-implants for patients with unique situations. Namely, this implant type is a good option for those with limited budgets, immune system problems, or needing bone grafting before receiving regular implants.
Mini-implants have benefits like:
Same-day completion
Less invasive
More affordable
Can secure a denture
Hopefully, you feel more informed about the dental implant terms you should know. That said, talk to your Salina dentist about treatment options in the coming days.
About the Practice
Blanco Circle Dental Care is based in Salinas, CA. As led by Drs. Ed Hajdari and Arian Chehrehsa, our practice provides gentle and comprehensive dentistry for all. To that end, we offer various preventive, cosmetic, and restorative dental treatments, including emergency procedures. Whether you need a dental checkup or a dental implant, Blanco Circle is here for you! For more information or to book an appointment, you can reach us at our website or by phone at (831)-422-7838.
Comments Off

on An Easy Guide to Essential Dental Implant Terms
No Comments
No comments yet.
RSS feed for comments on this post.
Sorry, the comment form is closed at this time.