February 4, 2021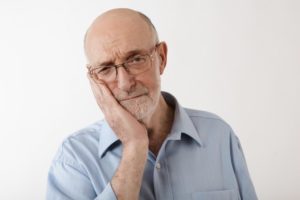 With the world still reeling from the effects of the COVID pandemic, there are several peripheral issues now on the rise. In addition to the direct health threat posed by the virus, dentists are noticing an increase of patients with cracked teeth or crowns. Are these dental emergencies from COVID? Continue reading to get the answer from a local dentist and discover ways to prevent a dental mishap in the future.
Increased Stress and Dental Health Problems
According to the Centers for Disease Control (CDC), there has been an increase in the number of people dealing with stress and anxiety since the emergence of the COVID virus. The elevated stress levels can cause people to clench their jaws and grind their teeth (which is called bruxism). This can lead to premature enamel wear and cracked teeth and crowns. Bruxism can also contribute to temporomandibular joint (TMJ) disorder, which is the painful inflammation of the joints that open and close the mouth.
Signs of Bruxism or a Cracked Tooth
Bruxism won't always cause severe pain at first, but it can give other warning signs, such as tense facial and jaw muscles, headaches, jaw popping and tongue indentions. Some of the warning signs of a cracked tooth are pain when chewing or biting, swollen gums around the injured tooth or sensitivity to hot or cold foods.
How Bruxism Can be Treated
To prevent a cracked crown or tooth or TMJ, it's important to seek treatment for bruxism. It typically involves a dentist custom designing a mouthguard to be worn while you sleep. Here are some complementary methods that will help reduce your stress levels:
Counseling
Morning yoga and stretching
Adopting an exercise regimen
Meditation, prayer or breathing exercises
What if You Have a Cracked Crown or Tooth?
If you have a cracked tooth or damaged crown, you should seek immediate care from an emergency dentist. To prevent any further damage, try to avoid chewing on that side of your mouth. To slow down bacteria growth, rinse your mouth with a saltwater solution. If there is any discomfort, you can take ibuprofen (Motrin, Advil or Aleve) to reduce the pain. Along with restoring your oral health, the dentist will provide tips for ways to prevent a similar mishap in the future.
Even if you aren't experiencing a dental emergency, it's a good idea to get in for a dental visit just to make sure there aren't any problems developing. If any are discovered, you and your dentist can work together to come up with an effective solution. While it may be tempting to skip dental visits because of COVID, this could be a big mistake that could lead to more complex dental issues.
With no signs of the pandemic easing and the world returning to normal any time soon, it's best to be proactive about your dental health. By seeking the appropriate treatment from a dentist and other health professionals, along with taking effective action on your own, you can feel more empowered and less anxious.
About the Author
An experienced and compassionate dentist, Dr. Ed Hajdari specializes in treating TMJ disorder and bruxism. A member of the National Ayurvedic Medical Association, he takes a holistic approach to providing emergency, restorative and preventive dentistry. Dr. Hajdari restores cracked teeth and crowns at Blanco Circle Dental Care, and he can be reached for more information or to schedule a visit through his website.
Comments Off

on Is COVID Contributing to an Increase in Dental Emergencies?
No Comments
No comments yet.
RSS feed for comments on this post.
Sorry, the comment form is closed at this time.