February 7, 2022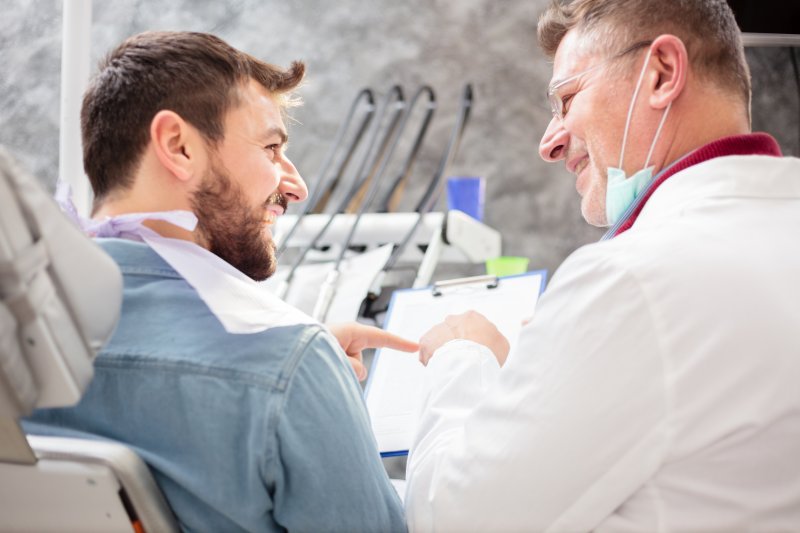 If you're considering dental implants, then you probably have plenty of questions and concerns about the procedure. From the actual implant procedure to the end results, you might not be sure what to imagine from the process. Fortunately, your dentist in Salinas suggests you focus on your first meeting! Read on to discover what you can expect from your dental implant consultation.
The Initial Conversation
Once you arrive at your appointment, you'll meet your dentist and dental team who will speak with you about the process and help create a genuine welcome for you. You'll also discuss with your dentist about your situation and concerns with your mouth as well as your dental history.
The Oral Examination
After discussing your dental needs, your dentist will thoroughly examine your teeth, gums, and overall oral health. They'll especially assess your bone mass and quantity so that your implants can be securely anchored in the jawbone. If there isn't enough bone volume, then you may require a bone graft before the implant procedure.
Your dentist may use an X-ray to further examine your jawbone. This can reveal how dense the bone really is and confirm whether enough structure is available for the implant. In addition, your doctor can also determine the exact location the post should be placed based off the X-ray exam.
Discussing Your Treatment Options
When your dentist has completed the examination, they will explain the different available treatment options. If they've decided that you're eligible for dental implants, then they can begin preparing a treatment plan. This proposal will include how long the treatment will take, the number of appointments, anesthesia and sedation options, the recovery period, and your aftercare instructions. With this, you'll have a clear summary of what to expect from the entire procedure.
Questions & Answers
Although you'll be learning about the technical plans for your dental implants, you shouldn't feel overwhelmed with the amount of information. Always feel free to ask as many questions about your potential procedure as you can. You'll want to make sure you understand the plan entirely so that you feel more confident about proceeding.
Discussing with your dental team about implants doesn't have to feel stressful. Your dentist will want to do their utmost to help you achieve the smile you deserve, and they'll be glad to answer any questions!
About the Practice
At Blanco Circle Dental Care, we offer outstanding and passionate dental care. With sophisticated technology and a focus on patient comfort, we provide various treatment options, including dental implants for restoring your smile. If you're ready to schedule your consultation visit, check out our website or call us at (831) 422-7838.
Comments Off

on What Can I Expect From My Dental Implant Consultation?
No Comments
No comments yet.
RSS feed for comments on this post.
Sorry, the comment form is closed at this time.