September 11, 2017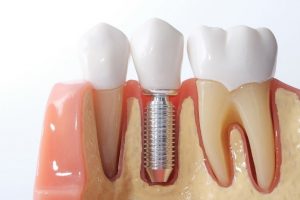 Are you among the 120 million adults in the United States missing at least one tooth? If so, you have probably heard about the excellent benefits that dental implants in Salinas offer; however, you still are not too sure if they are the right choice for you. It is only natural to have concerns about the procedure. To help ease your worries and to get the answers you need, there are several facts to consider prior to making a final decision.

Dental Implants are Commonly Used
Dental implants have quickly grown in popularity due to their various benefits. When performed on the ideal candidate and with the right aftercare, they can potentially last for a lifetime. Not to mention, when compared to a traditional denture, they have an increased biting force of over 70%. As a result, more than 5.5 million are placed each year in the U.S. alone.
Enjoy Security and Stability
After the initial placement of the implant posts by your dentist in Salinas, there will be some slight discomfort. However, after the healing process, you will not have to worry about any slipping or irritation. The jawbone fuses to the post to give you the same stability and security as your natural teeth so you can chew, speak, and smile without any concern.
They are Often Affordable
Although the price can vary considerably based on several factors, such as if additional procedures are needed, like tooth extractions or bone grafting, they are more affordable long-term. The initial cost is more upfront depending on how many teeth are being replaced, as well as if a specialist is required. However, you will not need adjustments, adhesives, or cleaning solutions so they will eventually pay for themselves when compared to traditional tooth replacement options. Although they are not typically included under dental insurance, your policy may cover certain aspects of the procedure, such as if tooth extractions are required.
Reduced Long-Term Costs
Dental implants allow you to make an excellent investment in your oral health while reducing your long-term costs for dental prosthetics. When performed on the ideal candidate and with the proper aftercare, the implant posts can last for a lifetime. The dental crown will experience daily wear and tear; therefore, it is best to have it replaced about every 10 years or when needed.
The Procedure Can Be Lengthy
After the initial surgery to place the post into the jawbone, your bone must fuse to it, which can take several weeks. Once proper healing has occurred, an abutment is attached to the post. It generally takes a couple of weeks for the gum tissue to heal prior to attaching the dental crown to the abutment. Although it may take a while, it is time well spent to improve your quality of life.
Complete Your Smile Today
If you are interested in dental implants, you will need to schedule a consultation with your dentist to ensure that they are right for you.
About Blanco Circle Dental Care
Blanco Circle Dental Care offers complete services, including many areas of specialty, like dental implants. If you have any questions about the procedure, please contact our office to schedule a consultation.
Comments Off

on Get the Facts about Dental Implants in Salinas
No Comments
No comments yet.
RSS feed for comments on this post.
Sorry, the comment form is closed at this time.