June 8, 2019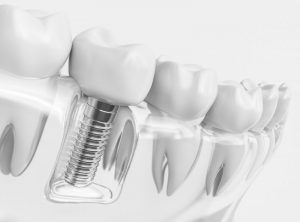 Have you ever taken a bite into a big juicy steak? What about some delicious crunchy chips? If you are missing teeth, chances are you haven't in a while. You may have had to stick to soft foods. What if there was a way to replace your teeth that allowed you to eat whatever you wanted again? There is, with dental implants. They are a permanent solution to teeth loss that offer many benefits. However, they are not the answer for everyone. A dentist is here to take a closer look at implants and whether you would be a good candidate for them.
What Are Dental Implants?
Dental implants are titanium posts that are surgically inserted into your jawbone to replace a missing tooth. They will eventually fuse to your jawbone in a process called osseointegration. Once they have healed, your dentist will place a restoration on top, such as a crown or bridge. They are designed to last for decades, and with proper care, they can even last a lifetime!
What Are the Benefits of Dental Implants?
Dental implants have several advantages over other methods of tooth replacement like bridges or removable dentures. These benefits include:
Durability: Bridges and dentures need to be replaced every few years, while implants are permanent.
Easier talking and chewing: Dentures can slide around and make speaking and eating difficult. Implants are sturdy and shouldn't give you any problems.
Better oral health: After osseointegration is complete, dental implants stimulate your jawbone through biting and chewing. Other tooth replacement options don't provide this benefit. In addition, it can be hard to brush and floss underneath bridges, increasing your chance of tooth decay.
Am I a Good Candidate for Dental Implants?
Although dental implants sound basically perfect, not everyone can get them. A good candidate for implants should have the following qualities:
Healthy gums
Enough jawbone left to anchor the implants in the jaw
A commitment to taking care of the implant with daily brushing and flossing and regular dental checkups
Some people do not make great candidates for implants, as they have a higher chance of implant failure. These include people who:
Smoke
Are young enough that their jawbone is still growing
Have uncontrolled diabetes or other immune deficiencies
Abuse alcohol or other substances
Are pregnant
Grind or clench their teeth
Take certain medications, like steroids or drugs that suppress the immune system
If you are interested in replacing your missing teeth with implants, your dentist can evaluate you to see if you would be a good candidate. This will include X-rays and going over your dental and general medical history to see if you have any diseases that could complicate the procedure. Call your dentist today to see if implants are the right way to get your smile back on track.
About the Author
Dr. Gary Klugman earned his doctorate from Washington University, and his first research article written afterwards was published by the National Institute of Dental Research. He has been awarded a Fellowship by the International College of Oral Implantologists. He also completes up to 8 times the number of continuing education hours required by the state of California in order to provide his patients in the Fremont area with the highest level of care possible. To learn more about how Dr. Klugman was rebuild your smile with dental implants, click here or call (831)-422-7838.
Comments Off

on Does My Dentist Think I'm a Good Candidate for Dental Implants?
No Comments
No comments yet.
RSS feed for comments on this post.
Sorry, the comment form is closed at this time.