August 5, 2019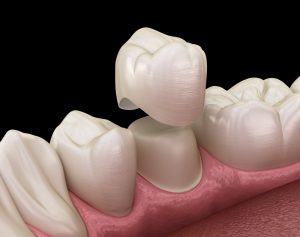 Fillings, teeth cleanings, and direct bonding procedures are pretty standard affairs at most checkups with your dentist in Salinas. However, dental crowns are starting to become more and more popular, and with good reason. They can be used to fix a wide variety of issues with a tooth. Read more to learn more about crowns, what they are made of, and how they can benefit you.
What Is a Dental Crown?
A dental crown, sometimes also called a cap, is a prosthetic object that slips over a tooth to protect and restore it. It can also be used to improve the appearance of a misshapen, discolored, or otherwise undesirable-looking tooth. Once the crown has been placed, only your dentist can remove it. Each crown is made by taking impressions of the underlying tooth. Depending on the material the crown is made of, your dentist can then customize the color to match the shade of the surrounding teeth, so no one even has to know you had dental work done.
What Are Dental Crowns Made Of?
There are 4 basic types of crowns:
Ceramic: Because these can be color-matched to the adjacent teeth, ceramic crowns are popular for restoring front teeth. They are comprised of a porcelain material.
Porcelain fused to metal: Since it's connected to metal, this crown is more durable than a normal porcelain crown.
Gold alloys: This is a mixture of copper, gold, and a few other metals. Not only does it create a strong bond with the tooth, but it won't fracture nearly as easily as other types of crowns.
Base metal alloys: This crown is made of metals that are very resistant to corrosion. It also requires the least amount of natural tooth material to be removed prior to placement.
What's the Difference Between the Types of Crowns?
Each case is different, so it's ultimately up to you and your dentist to decide which type of crown you want. For cases where the tooth is visible, patients will typically choose all-porcelain. However, these crowns are far less durable than the metal ones, so if you grind or clench your teeth, bite your nails, or chew on ice, it may present a problem. Gold and metal alloy crowns are much more resistant to everyday wear and tear than the porcelain ones.
If you find yourself needing or wanting a crown, talk to your dentist about which kind would be right for you and your smile.
About the Author
Dr. Gary Klugman received his dental degree from Washington University. He has achieved Fellowship status with the International Congress of Oral Implantologists, including making crowns to restore dental implants. To learn more about what type of crown would best fit you, contact Dr. Klugman here or at (831) 422-7838.
Comments Off

on What Are Dental Crowns Made Of?
No Comments
No comments yet.
RSS feed for comments on this post.
Sorry, the comment form is closed at this time.