June 11, 2017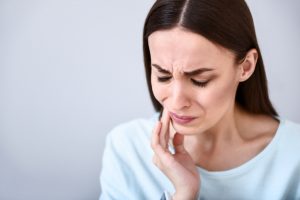 You know that you need to visit your dentist in Salinas every 6 months for a preventive appointment, but do you need to schedule one more often than that? Yes, there are times when you simply cannot wait until your next visit. Sudden or unexplained changes to your oral health is often an indicator that you need to see your dentist right away. If you delay receiving care, it could lead to significant damage that requires an invasive procedure. However, how do you know if you need to schedule an appointment? Dr. Gary Klugman discusses common signs that should alert you to a dental problem.

Bleeding Gums
Often, many tend to believe that it is normal for the gums to bleed, however, it is never normal. In fact, it is often the first sign that gum disease has developed. This is an infection that occurs in the gum tissue due to bacteria that is found in plaque and tartar accumulations. While the infection is easily treatable in the early stages, the signs often go undetected, allowing it to progress in severity. As a result, it can lead to tooth loss in the future.
Tooth Sensitivity
If your teeth start to become sensitive to temperature changes, it is often a sign of weakened enamel or a cavity. If a cavity is the cause, it must be treated immediately to prevent the damage from extending further into the tooth. However, if weakened enamel is the cause, you need preventive treatments, like a fluoride varnish, to help prevent the development of tooth decay.
Sudden Toothache
A sudden, severe toothache is often a sign of an infected tooth, known as a dental abscess. If it is not treated, the infection can spread into surrounding tissues and into the bloodstream. Not to mention, you will likely need to have your tooth extracted. However, with quick care, we can rehabilitate its health and stop the damage.
Oral Lesions and Sores
If you have any sores or lesions in your mouth that just will not heal, it could be a symptom of oral cancer. In addition, white patches, bumps, areas that have become numb need to be evaluated right away. With prompt diagnosis, the long-term survival rate significantly increases.
Dental Emergency
A dental emergency can take many forms, such as a knocked-out tooth, lost dental restoration, or fractured tooth. No matter the situation, you need to see your emergency dentist in Salinas right away. Time is of the utmost importance to treat the issue while restoring your oral health. If you wait, you may need to have your tooth removed.
Your Caring Dentist
At Blanco Circle Dental Care, we are always here for our patients—even in between regular appointments. If notice a change to your teeth or gums, you need to schedule an appointment right away. Dr. Klugman will find the cause of the problem to provide quick treatment to restore your oral health. Contact our office today to schedule your consultation.
Comments Off

on Signs You Need to See Your Dentist in Salinas
No Comments
No comments yet.
RSS feed for comments on this post.
Sorry, the comment form is closed at this time.