October 31, 2018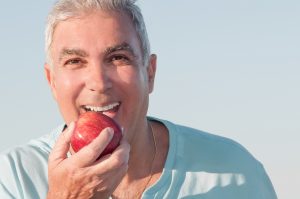 You've been living without your teeth, and now the time has come to replace them with a denture in Salinas. Before you embark on this journey, though, you want to know what to expect. How will the dentures feel? How can you overcome any soreness? These and other questions are answered by your dentist as you continue reading!
How are Dentures Held in Place?
Dentures are custom-made teeth replacements that consist of porcelain digits that are affixed to a pink, resin base that resembles your gums. They are held in place through two primary means:
Suction – Dentures are created to fit the gum and bone ridges of your mouth, which creates natural suction. Additionally, the muscles in the mouth adjust to contribute to the vacuum effect.
Dental Adhesive ­– Along with the natural suction your mouth provides, dental adhesives are used to hold your dentures in place. The non-toxic, water-soluble material is placed between the denture and your soft tissues.
How Long Does It Take to Adjust to Dentures?
For the initial few weeks after they are placed, your dentures may feel awkward. During this adjustment period, the muscles of your cheek and tongue are working to adapt to the new appliance.
Here are two of the challenges you may notice while your mouth works to accommodate the dentures:
There may be some soreness or irritation.
You may notice increased saliva flow, which usually subsides soon.
How to Overcome Gum Soreness
It is common to have some soreness after your dentures are first placed. Here are some remedies to help you overcome it:
Apply a topical gel or cream made for oral pain relief.
Remove your dentures and rinse your mouth with a salt-water solution.
Apply aloe vera gel to your dentures once or twice daily to aid in alleviating the discomfort.
Gently massage your gums.
Take over-the-counter pain relievers like ibuprofen.
If the soreness persists after allowing a few weeks to adjust and to incorporate the above methods for relieving the sensitivity, then bring it to your dentist's attention at your next visit. The professional will carefully examine your mouth to make sure there are no issues that need to be corrected.
Having a new set of dentures is your new lease on life. It allows you to once again enjoy the full functions of your mouth and have the confidence to smile and meet new people. To learn more about the process, contact your dentist in Salinas today.
About the Author
Dr. Gary Klugman earned his dental degree from Washington University. To stay current with the latest breakthroughs in dentistry, he takes continuing education annually, along with attending meetings and seminars. Dr. Klugman helps patients improve their self-esteem, speak with more clarity and regain the ability to chew food by custom-designing dentures for them at Blanco Circle Dental. He can be reached for more information through his website.
Comments Off

on How to Adjust to Your Denture in Salinas – Your Dentist Gives Solutions
No Comments
No comments yet.
RSS feed for comments on this post.
Sorry, the comment form is closed at this time.