September 21, 2020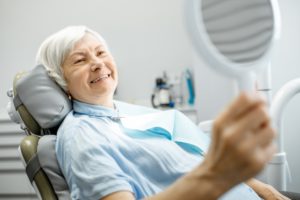 When you were first fitted with your dentures, it was like night and day. You could finally eat your favorite foods again and smile with the confidence you had before you lost any of your teeth. After about a year, though, your dentures started to not fit quite as snugly as they had initially. They began slipping out of place, causing you to make embarrassing whistling noises and slur your words. If you've been frustrated with your dentures lately, keep reading below. Your dentist has a solution that can help.
What to Do If You Hate Your Dentures
First things first, call your dentist. They should be able to get you in for an appointment right away. After the dentist examines your mouth, they can determine which option is best for you. It may be as simple as repairing or replacing your dentures. However, even with this option, you're going to run into the same problems again down the road.
Fortunately, there is a way to prevent these issues from popping back up in the future: securing your dentures onto dental implants.
How Implant-Retained Dentures Work
A dental implant is a small titanium post that is surgically inserted into the jawbone. Its biocompatible structure allows it to essentially become the root of your lost tooth by fusing to the bone. While implants that are meant to replace a single tooth are placed vertically, implants designed to support a denture can be inserted at a 45-degree angle. This allows a full denture to be secured by just four to six implants.
After any required preparatory work, like tooth extractions or gum disease therapy, the process begins with your dentist surgically placing the implants into your jawbone. In many cases, they're able to install a temporary denture immediately afterward so that you don't have to go without teeth. Over the next few months, the implants form a powerful bond with your jaw. Once this process is complete, your dentist can place a permanent denture that, depending on your preference, can be either fixed or removable.
Benefits of Implant-Retained Dentures
Implant-retained dentures offer many advantages over conventional dentures, including:
Increased stability. Your teeth won't need to rely on messy adhesives to stay in place. They also restore more chewing power than dentures alone.
Natural feel. Implants feel perfectly natural, just like the roots of your original teeth.
Youthful appearance. Implants stimulate your jawbone, allowing it to better support your facial muscles and keep you looking young.
Durability. Because implants fuse to your jawbone, they can easily last 30 years or more.
Don't let a poorly fitting denture inconvenience you any longer. Call your dentist today and ask if implant-retained dentures are right for you!
About the Author
Dr. Gary Klugman obtained his Doctor of Dental Surgery degree while at Washington University. Since then, he has undergone enough specialized training in the field of dental implants to earn a Fellowship with the International Congress of Oral Implantologists. This means he can perform every step of the implant-retained denture process all under one roof. To learn more about whether you're a good candidate for implant-retained dentures, contact his Salinas, CA office at (831) 422-7838.
Comments Off

on Do You Hate Your Dentures? Here's a Solution That Can Help
No Comments
No comments yet.
RSS feed for comments on this post.
Sorry, the comment form is closed at this time.