April 14, 2020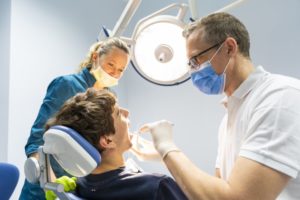 Do you know the best place to go when dealing with a dental emergency? Although it might make sense to visit the local ER, you should rethink this decision, especially if you want to avoid the possibility of contracting COVID-19. When dealing with this type of situation, you may want to consider how beneficial it is to see your emergency dentist. As an individual with proper training and knowledge, you'll likely get the care you need more quickly and completely.
Why the ER Should Be Avoided Right Now
You've been taught your whole life that the best place to receive immediate treatment for a serious injury or accident is the emergency room. But due to the current climate, it's not an ideal place to be right now. As COVID-19 causes hospitals to be overrun with sick patients, you will be putting yourself (and others) at risk of contracting the virus.
Not only are hospitals filled with doctors and nurses quickly working to treat as many ill individuals as possible, but you could be faced with waiting in a lobby for several hours before receiving treatment of any kind.
Dental Emergencies That Can Be Treated by a Dentist
Depending on the type of injury you sustain, you're usually better off seeing an emergency dentist. However, if you are dealing with a fractured or broken jaw, continuous bleeding that cannot be stopped, or increased swelling to the face, jaw, or neck that is making it difficult to breathe and/or swallow, you should seek immediate medical attention at your local ER.
Your dental professional is otherwise entirely capable of handling all other types of dental emergencies, including:
Soft tissue injuries
A knocked-out tooth
A chipped or cracked tooth
Lost dental crown/filling
Tooth sensitivity
Abscess or infection that doesn't hinder your ability to breathe
When you consider their years of educational experience, training, and knowledge, it's easy to understand why your emergency dentist is the best person to care for your needs. From the personalized attention you'll receive when you arrive to the start-to-finish treatment for your specific injury, you'll be resuming normal activity more quickly than if you were to visit an emergency room.
If you're concerned about the safety precautions your dentist's office is taking, call to find out what they are doing to keep their practice virus-free, so you can feel confident should you need immediate assistance.
About the Author
Dr. Gary Klugman and the team at Blanco Circle Dental Care know that when an emergency occurs, you want immediate help. Although most dental offices are currently closed, they are continuing to see individuals dealing with serious injuries and infections. Taking an abundance of caution to ensure the safety of both staff and patients, they will gladly take your call and schedule a time for you to come in for assistance. If you or a loved one require immediate care, contact us via the website or call (831) 422-7838.
Comments Off

on Dental Emergency? Why You Should Visit Your Dentist Instead of the ER
No Comments
No comments yet.
RSS feed for comments on this post.
Sorry, the comment form is closed at this time.