May 4, 2019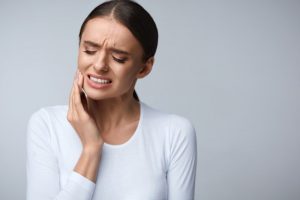 You just broke a tooth while crunching ice, and it's incredibly painful. You know you need to call your emergency dentist as soon as possible, but what are you going to do about the pain in the meantime? Fortunately, for many dental emergencies, there are over-the-counter solutions that can provide temporary relief before getting proper treatment. Here are some common dental emergencies and how to care for them before your emergency appointment.
Chipped or Broken Teeth
Your teeth can break for any number of reasons. If this happens, rinse your mouth with warm water and save any broken pieces. If there's any bleeding, apply a piece of gauze for ten minutes or until it stops. Use wax to cover the broken area to avoid cutting the soft tissues in your mouth.
For pain relief, over-the-counter medicines like ibuprofen and acetaminophen can be used. Avoid aspirin; it can slow blood clotting and cause other problems in your mouth. A cold compress can help keep down any swelling.
Severe Toothache
Toothaches can sometimes be due to an infection. Ibuprofen can work very well in this situation due to its anti-inflammatory properties. Again, do not use aspirin; it can burn the gum tissue.
Sometimes, a toothache may be due to food stuck between your teeth. In those cases, dental floss, water picks, or interdental brushes can help dislodge it. If you're unable to remove the source of the pain this way, you'll definitely need an emergency appointment.
Knocked Out Teeth
If your tooth is knocked out, it can be saved if you get to the dentist quickly enough. Pick it up by the chewing end (not the root) and rinse it before trying to slip it back into its socket. If you can't re-insert it, you can try preserving it in milk. You can also use tooth-preservation kits like Save-a-Tooth. Water should only be used as a last resort, as the root surface cells of the tooth won't last as long.
Remember: Temporary Relief is Not a Solution
Over-the-counter medicines and do-it-yourself treatments can relieve pain and help preserve your tooth, but they cannot permanently solve the problem. Don't assume that you can ignore a damaged tooth just because it doesn't hurt; in a dental emergency, you should always call your dentist for a same-day emergency appointment.
About the Practice
At Blanco Circle Dental Care, Drs. Klugman,, and Hajdari combine their decades of expertise to provide comprehensive dental care for patients of all ages in Salinas. They are often able to make same-day emergency appointments for cases that require urgent care. To make an appointment or learn more about emergency services, visit their website or call (831) 422-7838.
Comments Off

on Waiting for Your Emergency Dentist? Over-the-Counter Pain Relief
No Comments
No comments yet.
RSS feed for comments on this post.
Sorry, the comment form is closed at this time.