May 4, 2022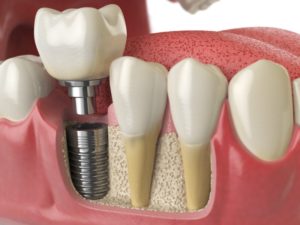 Unfortunately, tooth loss is not uncommon, to say the least. If you're missing at least one tooth, you're in the same situation as 178 million other Americans. Hope is not lost, however, since there are several tooth replacement options to choose from. A preference by many patients and dentists alike is dental implants because of their significant benefits. But how long do dental implants last? Continue reading to learn more from your dentist in Salinas about their lifespan and how you can extend it.
What Affects Dental Implant Lifespan?
Implants are considered a permanent tooth replacement option, but this doesn't necessarily mean that they will last forever. However, they are made to be durable and typically have a lifespan of 25 years or more with proper care. Dental implant lifespan depends on several factors:
Location in mouth
Gum health
Maintenance
Overall health
How Do You Get the Most Out of Your Dental Implant Investment?
Fortunately, most of the factors that contribute to the health of your implants are in your control. Here are a few things that you can do to maximize dental implant lifespan:
Maintain excellent oral hygiene: Your dental implants need to be brushed and flossed every single day, just like your natural teeth. While the crown that is attached to your implant is not susceptible to decay, the implant itself relies on healthy gum tissue to be successful. If you develop periodontal disease, you are much more likely to experience dental implant failure.
Proper use: Dental implants are made to chew your food, keep your jawbone strong, hold in saliva, and help you smile. Do not use them to open bottles, rip through packaging, crunch on ice cubes, or bite your nails. When you use your implants as tools, you could damage them.
Choose a dentist who is experienced: When selecting a dentist for your dental implant placement surgery, you want to make sure they have a lot of experience in this regard. This goes for any surgery or procedure you opt for. Check into the types of continuing education they have completed. It is also a good idea to look at their patient reviews.
See your dentist regularly: Regular cleanings and checkups are necessary to prevent oral health problems. When problems occur with your implant, it is important your dentist catches them right away so they can be resolved.
So, how long do dental implants last? Their long life is one of many benefits. However, they must be well taken care of, or else they will be compromised. With proper maintenance, you may never have to worry about missing teeth again!
About the Practice
At Blanco Circle Dental Care, we invite you to come experience why we have been voted the top dental practice in Salinas six years in a row. We offer sedation dentistry to help you relax, plus early morning and evening appointments are available to accommodate your busy schedule. If you are interested in dental implants, we can perform placement at restoration at our office location, we offer mini dental implants or implant dentures, plus CareCredit financing is available. Schedule a consultation on our website or call (831) 422-7838.
Comments Off

on How Long Do Dental Implants Last?
No Comments
No comments yet.
RSS feed for comments on this post.
Sorry, the comment form is closed at this time.