November 9, 2020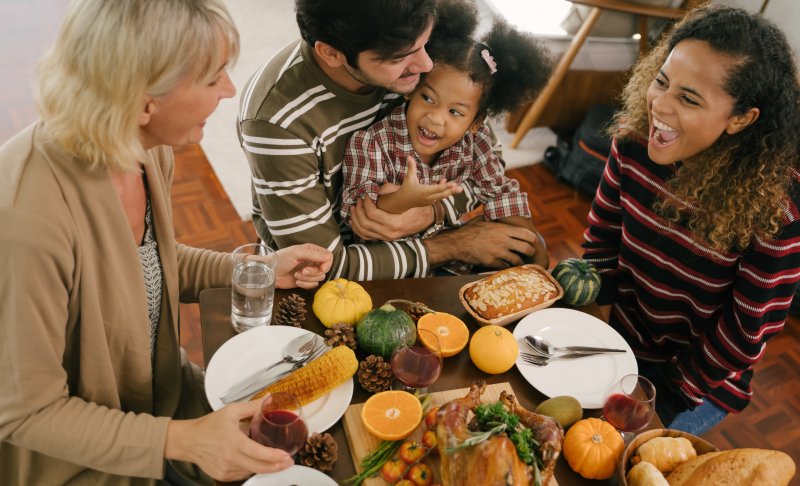 Thanksgiving is quickly approaching, and there's so much to be thankful for this holiday season. If you've been blessed to have a great smile, it's important to maintain good oral health in order to preserve it. A dentist in Salinas can help keep your pearly whites in great condition for the holidays and beyond. Here are five tips for maintaining a smile-friendly Thanksgiving.
Limit Sweets
While you may have waited all year for a slice of grandma's homemade pumpkin pie, keep in mind the amount of sugar that is used to make this delicious treat. There's no need to totally ignore your sweet tooth, but maybe cut back on your portions. Sugar is well known for causing tooth decay, and if you can't stay away from the desserts, try to make your own and swap sugar for xylitol or erythritol, which are both popular substitutes that don't cause decay.
Watch Out for Stains
Red wine, cranberry sauce, and balsamic vinegar are just a few items you'll find around the dinner table during the holidays.While they're popular choices for many, just know they can leave stains on the enamel of your teeth. Indulge if you must, but be sure to schedule a cleaning with your dentist once the holidays are over so your teeth can be refreshed with prophylaxis paste which can remove plaque and stains. In the meantime, brush and floss after your meal to remove any food particles and keep the surfaces of your teeth clean.
Reach for the Fresh Veggies
These naturally bright foods are packed full of vitamins and minerals. Leafy green vegetables are also good sources of calcium, which is excellent for keeping teeth strong. Feel free to fill your plate full of vegetables, as they're great for keeping your teeth and body healthy.
Limit Starches
What would Thanksgiving be like without stuffing or potato casserole? While these foods may not be obvious offenders, the starches in them can affect your dental health. Starches also feed bad bacteria which can then trigger tooth decay. You don't have to skip these dishes completely, but maybe balance them out with a nice salad or a side of green beans to counter the starches.
Back Away from Acidic Foods Like Berries
Berries are very acidic and can tarnish your teeth by eating away at the enamel. Wine, soda, cranberry sauce, and tomatoes may also be present at your holiday feast. You can still enjoy these items, but maybe rinse with water once you've finished eating. This simple action reduces the amount of time the acid will sit on your teeth. The longer the acid is present, the more damage it can do. Once the acid has penetrated the enamel, it leaves your teeth more susceptible to tooth decay.
Your Teeth Will Thank You
Follow these recommendations so you can attend your Thanksgiving feast and leave with your beautiful smile still intact. If you're interested in receiving additional information on practicing good oral hygiene, please contact your dentist.
About the Author
If you'd like to refresh your teeth after the holidays, either with a cleaning or professional teeth whitening, please call at (831)422-7838, or request an appointment through our website.
Comments Off

on 5 Ways to Take Care of Your Smile on Thanksgiving
No Comments
No comments yet.
RSS feed for comments on this post.
Sorry, the comment form is closed at this time.