January 4, 2023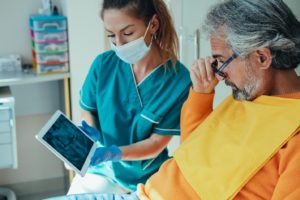 Dental implants are considered by many to be the gold standard when it comes to tooth-restoration. That said, if you're curious about replacing your lost teeth with implants, the first step toward getting dental implants is visiting your dentist for a consultation—it is a surgical procedure, after all! Here are four important questions that you should ask during this appointment so that you can feel informed and comfortable about the dental implant process.
"How Long Does the Actual Process Take?"
The length of the dental implant process depends on several factors, but the main one is the number of implants being placed. It can sometimes take up to one hour to place each implant, meaning that if you have several teeth being replaced, you might need to schedule multiple visits. Of course, after the lengthy osseointegration process (in which the posts fuse with your jawbone over the course of a few months), the crown portions of the implants will need to be attached to the posts. This appointment is typically much shorter, though.
"What Does the Recovery Period Look Like?"
If your implants cannot healthily fuse with your jawbone, they will ultimately fail! That said, the recovery period for osseointegration is usually a few months; but once that process has wrapped up and you've received the crown portions of your implants, you can expect to be sore for a few days as you work towards resuming normal activities. Applying ice packs, eating soft foods, and taking over-the-counter pain relievers can assist with this discomfort. Since there's a delay between when the metal implant is placed and when the new tooth is attached, patients are often provided with a temporary denture to wear that keeps their smile intact.
"How Much Will the Procedure Cost?"
Generally speaking, implants typically have a higher upfront cost than other restorative options like dentures or bridges. This price can increase even more if you're receiving multiple implants. However, dental implants are also incredibly cost-effective as time goes on since they're intended to serve as a permanent solution. It's also usually possible to explore financing solutions or payment plans since implants are a more costly restorative treatment.
"What Can I Do to Make My Implants Last?"
Your dentist can provide you with detailed instructions for how to properly care for your dental implants. It's vital to practice regular oral hygiene once you've received them—they don't exempt you from brushing and flossing daily! However, unlike dentures, they don't require any specialized care and can be cleaned just like your natural teeth. If you're able to maintain them, they'll serve you well for several decades.
You should feel confident about receiving dental implants after your initial consultation! That said, don't hesitate to ask your dentist these questions during your visit so that you can go into the process with certainty and excitement.
About the Practice
The team at Blanco Circle Dental Care serves patients and families in the Salinas, CA area. Under the leadership of Dr. Ed Hajdari and Dr. Arian Chehrehsa, they're able to provide an exceptional level of dental care. If you have any questions about dental implants or feel ready to schedule your consultation, don't hesitate to contact the practice online or by phone for assistance: (831) 422-7838.
Comments Off

on 4 Questions You Should Ask During Your Dental Implant Consultation
No Comments
No comments yet.
RSS feed for comments on this post.
Sorry, the comment form is closed at this time.