February 13, 2020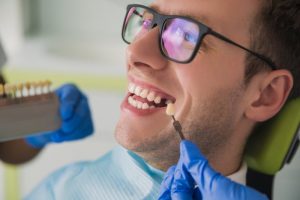 The crown of the tooth is the part that is visible above the gum line. Although it's covered with enamel, which is the strongest material in the human body, it's still subject to becoming worn, cracked or decayed. If the damage is unrepairable, then a remedy is for a dentist to place a new crown. How long should you expect it to last, though? Furthermore, would there ever be a reason to replace the restoration? As you continue reading, a local dentist answers these questions and provides other valuable information.
What are Dental Crowns Made From?
When it comes to the fabrication of a crown restoration, there are a few options available. The materials used can range from metals to porcelain, resin or ceramics.
Here are some details about each option:
Metals – Can include gold, palladium, nickel or chromium, and are known for rarely chipping
Porcelain-fused-to-metal – Tooth-colored porcelain fused to metal that is typically used for front or back teeth
All-resin – Made from composite resin material and is usually less expensive than the other options
All-ceramic or all-porcelain – A completely metal-free process that is naturally colored and is typically recommended for the front teeth
Pressed ceramic crowns – Also known for its natural tooth coloring, includes a hard-ceramic inner core that is capped with porcelain
How Long Should a Crown Last?
The typical lifespan for a well-maintained dental crown is around 15 years. However, there are exceptions to the norm, as it's not unheard of for one to last for up to 25 years. Some of the key contributors to the restoration's longevity is a person's oral hygiene habits, the proper usage of the teeth (avoiding fingernail biting, teeth grinding and chewing hard items) and maintaining regular dental visits.
Indicators That a Crown Needs to be Replaced
One of the most recognizable issues with a dental crown is a crack or chip. Another indicator that one needs to be replaced is the development of a dark line, which is more common with metal-infused crowns.
If any wobbling or pain is noticed when biting down, that can also be a serious sign of a problem with the crown. None of these issues should be ignored because a damaged or partially dislodged restoration can increase the chances of cavity formation and gum disease. So, any problems discovered should immediately be brought to a dentist's attention.
Whether you're considering having a crown placed, or you've already received a restoration, you now have a blueprint for how to extend its life and identify any problems earlier, so that you can receive the care you need.
By being proactive and consistent in your efforts, you can enjoy a restored, functional and attractive smile for years to come!
About the Author
Dr. Gary Klugman earned his dental degree from Washington University. Since then, his commitment to excellence hasn't wavered, which is why he has taken continuing education courses to stay abreast of the latest changes and advancements in dentistry. Dr. Klugman places effective and attractive dental crowns at Blanco Circle Dental Care, and he can be reached for more information through his website.
Comments Off

on Does a Dental Crown Restoration Ever Need to be Replaced?
No Comments
No comments yet.
RSS feed for comments on this post.
Sorry, the comment form is closed at this time.