May 2, 2021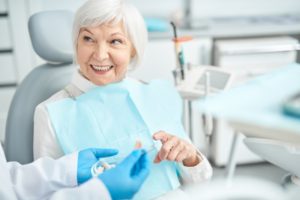 For people who've been without a full set of teeth for any period of time, traditional dentures provide a way to once again eat more foods and smile with confidence. There's a problem that each patient will face at some point, though: denture failure. If you notice any of these warning signs, it's time to replace your dentures!
A Poor Fit
It's only natural that your jaw and facial shape will change over time. This will cause the dentures to fit differently. If they become loose or usual actions like chewing and speaking are difficult to complete, it's important to reach out to a dentist to be examined.
Broken Teeth
If you drop a set of dentures or bite down too hard when eating, they can fracture. While this is a repairable fix in some instances, a new set of dentures is usually required.
Pressure Sores
An improper fit can cause pressure sores to develop. You'll typically find them on the parts of the gums where the dentures apply the most force when you bite down. If you notice a pressure sore, it's a clear indicator that you need new dentures.
Discolored Dentures
Poor dental hygiene can lead to stained and discolored dentures. Other contributors are heavy coffee, tea, dark wine or beer consumption.
Chipped Denture Base
Once the denture base becomes cracked, chipped or otherwise damaged, the dentures are no good. Failing to have them replaced could lead to a painful injury and dental emergency.
Chronic Pain
While it's common to experience some initial discomfort when you're first fitted with a set of dentures, the pain should eventually subside. If it continues and you develop gum sores, it's a sign that you either need a repair or replacement.
Gum Irritation
To address any minor discomfort, a dentist can sometimes make small adjustments. If this doesn't help and you notice sores, raw spots or soft tissue bleeding, bring it to the dentist's attention so the dentures can be replaced.
How Dental Implants Can Upgrade Your Smile
If you're having issues with your dentures, maybe it's time to try something new: dental implants. Instead of relying on the pressure created inside your mouth and dental adhesive to hold them in place, dental implants are surgically inserted into the underlying jawbone. The result is a long-lasting form of tooth replacement that looks and feels natural. With proper care, a set of implant-retained dentures can last up to a lifetime.
To learn more about the procedure and to find out if you're eligible, pay a local implant dentist a visit. By taking action, you can put an end to any discomfort and have your smile completely rejuvenated!
About the Author
Specializing in a plethora of dental services, including full mouth reconstruction, Dr. Ed Hadjari is a graduate of the California College of Ayurveda and practitioner of Ayurvedic medicine. He takes a calm and gentle approach to providing care so that his patients can always feel relaxed and confident. Dr. Hajdari rebuilds smiles and replenishes lives by placing implant-retained dentures at Blanco Circle Dental Care, and he can be reached for more information or to schedule a visit through his website.
Comments Off

on If You Notice This, It May be Time to Replace Your Dentures
No Comments
No comments yet.
RSS feed for comments on this post.
Sorry, the comment form is closed at this time.