November 19, 2021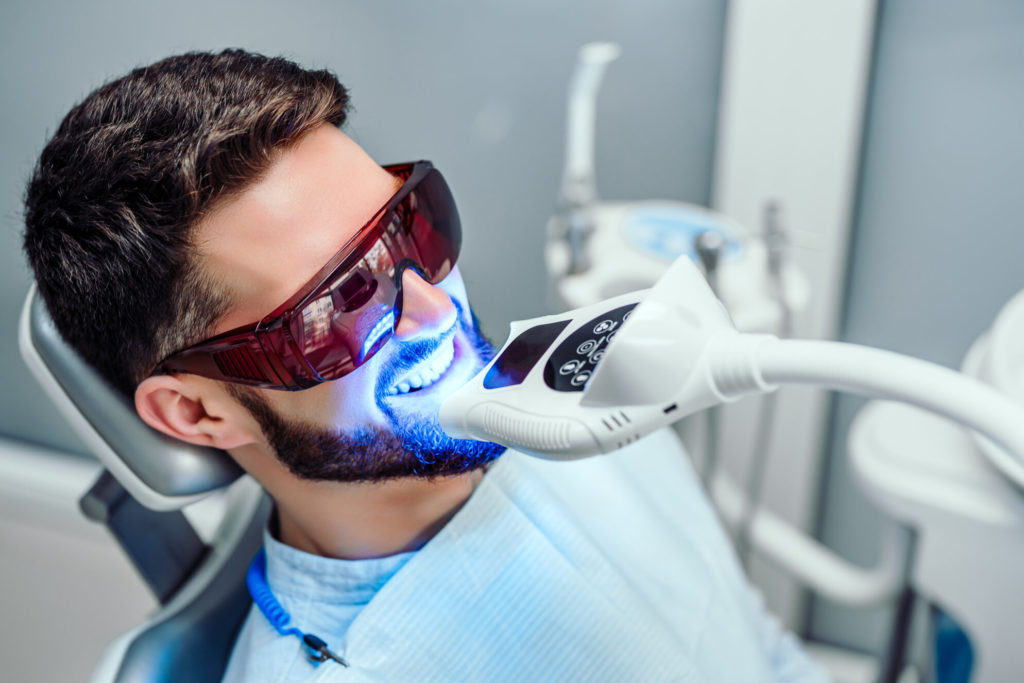 A smile is worth a thousand words, so what does yours say? Does it show off who you are as a person and communicate to others that you take pride in your oral health? If not, you may be interested in teeth whitening. Though there are countless over-the-counter whitening strips, pastes, and trays, your dentist is also likely to offer professional teeth bleaching services. But how can you know which option is the best one? Read on to learn how teeth whitening works, the benefits of professional vs store-bought products, and which one is the best overall option for your smile.
How Do Teeth-Whitening Products Work?
Most teeth whitening products and treatments use a peroxide solution to correct discoloration and remove stains from the teeth. Peroxide is effective at lifting unsightly stains from your pearly whites because it can partially penetrate the layers of the teeth. While many at-home teeth-whitening products contain as little as 10% peroxide, professional treatments have up to 40%.
Types of Store-Bought Whitening
Similar ingredients can be found in both store-bought and professional whitening treatments. Even so, they use different approaches to brighten your smile. A few types of over-the-counter teeth whitening include:
Strips – Whitening strips contain peroxide or bleach and can be placed on your teeth to remove stains and restore their natural color. Unfortunately, bleaching strips often only cover the six front teeth, which leaves the color of your smile looking uneven
Gels and Bleaches – These are often sold as a "paint-on" application or with mouth trays. The version that comes with mouth trays has patients insert the gel or bleach into them before putting them on their teeth for a specific amount of time. Peroxide solutions can be dangerous if not monitored, and there's no guarantee that the trays will fit properly, which can cause product overflow and damage to the gums.
Toothpaste – Whitening toothpaste usually contains abrasive agents that scrub away stains. Though these kinds of toothpaste are somewhat effective, they can cause damage to your tooth enamel if used too often.
Benefits of Professional Teeth Whitening
Though there are many over-the-counter whitening products, your dentist has more powerful tools at their disposal. For in-office whitening, a powerful solution is applied to the teeth so it can break up stains. Take-home whitening treatments work a bit slower, but they work similarly. Your dentist will have custom trays made so you can apply the whitening gel to your teeth every day for about two weeks. Regardless of which option you choose, your smile is sure to be brighter and whiter than before!
Which Option Is Best?
Though over-the-counter teeth-whitening solutions cost significantly less than professional treatments, they require a smaller investment in the long run since they are longer lasting and more effective. Store-bought products are often more convenient, but in-office and take-home whitening features professional-grade products that are safer for your smile. Ultimately, the choice is up to you. But, if you want safe, effective results that will last, professional teeth whitening is the way to go.
Our smiles say a lot about us, so make sure yours is sending the right message. Ask your dentist about their whitening service offerings, and you'll have the smile of your dreams in no time!
About the Practice
Blanco Circle Dental Care treats their Salinas patients the way they treat their family: with kindness, compassion, and understanding. If you're unsatisfied with your smile and want it to be brighter and more vibrant, they offer in-office and at-home whitening services. Before you know it, you'll be sporting a smile you love! Call Blanco Circle Dental Care at (831) 422-7838 or visit their website for more information on their whitening services or to schedule an appointment.
Comments Off

on Store-Bought VS. Professional Whitening
No Comments
No comments yet.
RSS feed for comments on this post.
Sorry, the comment form is closed at this time.