July 10, 2019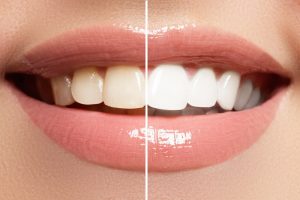 Who doesn't want a smile like the ones celebrities on TV have? That's why there are so many products on the market promising that they can give you whiter, prettier teeth. But are these do-it-yourself treatments really as reliable as professional whitening? Learn more about the various methods of teeth whitening in Salinas – and why seeing your dentist may be your best bet.
What Kind of At-Home Teeth Whitening Options are Available?
There are many kinds of whitening toothpastes, strips, gels and rinses available. Generally, these products will contain an agent such as hydrogen peroxide that can help remove surface stains and kill oral bacteria.
There are also some "natural" techniques that patients use to try and whiten their teeth. For example, some people brush with activated charcoal; the theory is that the charcoal's pores will bond with particles and bacteria that cause stains, thus leaving the teeth cleaner and whiter once the charcoal is removed. Other methods include rubbing the teeth with strawberries and rinsing with spices like turmeric.
Do These Remedies Work?
In general, over-the-counter whitening products can have an effect on your teeth, but there's only so much they can do on their own. While they're usually good for getting rid of stain particles on the surface of the enamel, they won't be able to address any intrinsic stains underneath. For this reason, whitening strips and other products usually can't change the color of your teeth by more than one shade – and sometimes they won't even be able to do that much.
Other do-it-yourself treatments generally aren't reliable. There's a lack of evidence demonstrating that turmeric or charcoal can effectively whiten teeth; in fact, charcoal's abrasive properties might ultimately harm the enamel. Similarly, the malic acid in strawberries can eat away at your tooth if you're not careful. Your teeth are a precious resource meant to last a lifetime; why take the risk when there are more proven methods available?
What About Professional Teeth Whitening?
The products used by a dentist in professional teeth whitening are far more powerful than anything you can get over-the-counter; they can bleach the enamel to remove intrinsic stains and brighten the teeth by several shades. Furthermore, professional treatments are much faster and have the benefit of a dentist's oversight to help protect your teeth.
Methods of professional whitening include:
Opalescence in-office: A chemically activated whitening solution is applied to the teeth for 15 minutes at a time. It can create a more dazzling grin over the course of a single visit.
Opalescence take-treatment: You'll receive a take-home kit with custom trays that can be filled with a whitening gel. It takes about two weeks, but the results will speak for themselves.
Hydrogen-peroxide treatment: This whitening procedure can be performed in as little as 30 seconds.
Speak with your dentist about your personal needs and what form of treatment would work best in your situation. Leave beautifying your smile to someone that you know you can trust!
About the Practice
At Blanco Circle Dental Care, our dentists combine their areas of expertise – general dentistry, family dentistry, cosmetic dentistry and so on – to bring comprehensive care to patients of all ages. For patients who want to keep their smiles looking the best they can, they offer Bright White Forever, a program that helps the effects of a professional whitening last as long as possible. To set up an appointment, visit their website or call (831) 422-7838.
Comments Off

on Who Can You Trust for Teeth Whitening in Salinas?
No Comments
No comments yet.
RSS feed for comments on this post.
Sorry, the comment form is closed at this time.