July 21, 2023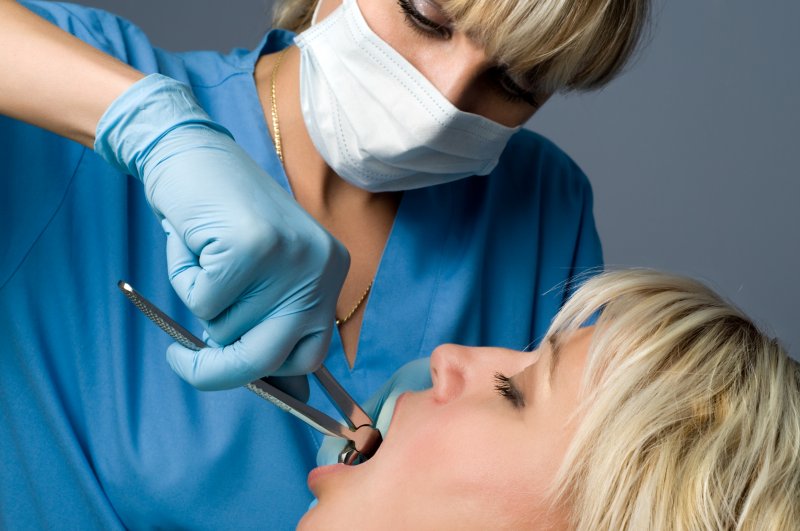 Going to the dentist to have a tooth removed through extraction can be an anxiety-inducing prospect. There are of many questions that can fill your head when a dental emergency puts you face-to-face with the decision.
While there's no reason to worry about the procedure as it is fairly common, you may be uncertain about the specifics of the treatment. Continue reading to learn what to expect from a tooth extraction and gain the peace of mind that comes with this knowledge.
Tooth Numbing and Anesthetic
Once you've made the decision to have your tooth removed, the first step is for your dentist to prepare the site of the procedure by numbing your gums around the afflicted tooth. The numbing agent has been specifically formulated to last the entire length of the procedure, so you shouldn't feel any pain.
After the area has been numbed, your dentist may offer nitrous oxide sedation to help ease your anxiousness. Your dentist will be able to help you make any accommodations for your comfort before the procedure begins.
Tooth Extraction
The actual tooth extraction can be a quick, but precise, procedure that involves a pair of extraction forceps and elevators. Your dentist will use these tools to separate the surrounding tissues from the tooth and then grab it. The tooth is then moved back and forth to coax it out of the socket.
In some cases, the tooth may be too hard to extract in this fashion, so a dentist may need to resort to another method that involves taking the tooth out one piece at a time. If the tooth you need extracted is partially or fully under your gums, it will need to be removed by an oral surgeon.
Regardless of how this part of the procedure is done, you might feel pressure on your jaw, but you shouldn't feel any pain.
Closing the Space
Once the tooth is removed, your dentist may need to clean up the socket by removing any loose tooth or bone. A clot will then begin to form in the socket, and your dentist will place gauze over the affected area and instruct you to gently bite down, adding slight pressure to help the clot form.
If your extraction was performed surgically, your oral surgeon will stitch the gums closed to prevent bleeding and infection.
Recovering From Tooth Extraction
It is very important to remember that while you are recovering from a tooth extraction, you should stick to warm, soft foods and avoid smoking or straws. The action of creating suction in your mouth could cause the clot in the socket to break free and cause extreme pain.
When brushing and flossing, ignore the site of the extraction for seven to ten days and rinse your mouth gently with warm salt water.
If you experience mild swelling or tenderness, you may use an ice pack on your face for a short time to bring the swelling down.
Avoid NSAID pain medications like aspirin that act as blood thinners as they could prolong the healing process. If you're unsure, ask your dentist what you can do for mild tenderness. If severe pain arrives after the extraction, contact your dentist immediately to schedule a follow-up appointment.
With this knowledge, you can approach your dental appointment with confidence and ease any concerns you might have. Remember, your dentist is there to ensure your comfort and well-being throughout the process, making the experience as smooth as possible.
About the Practice
Dr. Ed Hajdari and Dr. Arian Chehrehsa work together to provide the best holistic dentistry the industry can offer. With over three decades of experience between them, they are experts at treating patients with anxiety. Dr. Hajdari is trained in full mouth restoration and maintains active membership in the National Ayurvedic Medical Association. Dr. Chehrehsa is a board-certified oral surgeon and holds certification with the National Dental Board of Anesthesiology. To schedule an appointment or learn about the restorative services offered at Blanco Circle Dental Care, visit the website here or call (831) 422-7838.
Comments Off

on Demystifying Tooth Extraction: What to Expect During the Procedure
No Comments
No comments yet.
RSS feed for comments on this post.
Sorry, the comment form is closed at this time.