June 19, 2014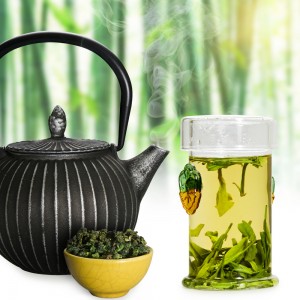 A tall, ice cold glass of tea is a wonderful way to cool off in the summer heat. A summer staple, tea of all types has been able to cool us down, quench our thirst, and please our taste buds. From black tea to herbal, from peach to spearmint, the options often are overwhelming, but the end results are always delicious! What you may not know is how green tea is able to give you amazing benefits, both to your smile and your body! This summer, we want to make sure you are fully knowledgeable about what type of tea you are drinking and how it can promote your body's wellness!
One of the amazing advantages to drinking green tea is the fact that it helps with your brain and your heart. Green tea is full of catechin, which are antioxidant that fight off, and have the ability to prevent, cell damage. Studies have proven that drinking green tea is directly linked to having a larger amount of activity in the working memory part of your brain. Also, drinking green tea has been shown to block the development of plaques that have been linked to Alzheimer's disease.
For those with diabetes, green tea helps been the blood sugar level stable! If you are over worked and very stressed, green tea has an amino acid called theanine, something that can have a calming effect on people. For those trying to lose some weight, green tea can help increase your metabolism, helping you burn more fat calories! There are so many amazing advantages to having a cup of delicious green tea, and you should definitely experience it for yourself!
At Blanco Circle Dental Care, Dr. Gary Klugman and Dr. Christina Bianco provide quality general, cosmetic and sedation dentistry services. Our Salinas, CA dental office serves patients from Hollister, Monterey, Seaside, Prunedale, Marina, Greenfield, Gilroy, and King City. Call us today to schedule your next appointment.
No Comments »
No comments yet.
RSS feed for comments on this post.
Leave a comment