September 11, 2013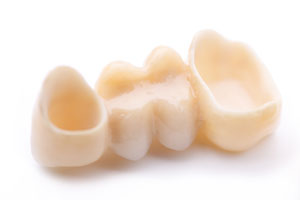 Missing teeth can occur for a variety of reasons, including damage and decay. No matter the reason why this has occurred, it's important to replace your missing teeth to restore health and function to your smile. At Blanco Circle Dental Care, we can accomplish this with a crown and bridge restoration.
Crown and bridge restorations are a good way to replace one or a few missing teeth that are in a row. The missing teeth will be replaced with crowns that are anchored to a bridge, allowing for a secure attachment to your smile. The bridge uses the surrounding healthy teeth to serve as anchors to help stabilize and hold the bridge restoration in place.
Whether you're missing one or a few teeth, it's important to replace them as soon as possible because you're leaving the rest of your teeth at risk. We can use a crown and bridge restoration to replace missing teeth and restore your smile. You'll be able to chew, eat and speak normally once again. Without this important restorative dental procedure, there's added stress placed on your remaining teeth and they will try to shift out of position to fill the gaps. Give us a call today to learn more about crown and bridge restorations and see how we can help improve your smile.
At Blanco Circle Dental Care, Dr. Gary Klugman and Dr. Christina Bianco provide quality general, cosmetic and sedation dentistry services. Our Salinas, CA dental office serves patients from Hollister, Monterey, Seaside, Prunedale, Marina, Greenfield, Gilroy, and King City. Call us today to schedule your next appointment.
No Comments »
No comments yet.
RSS feed for comments on this post.
Leave a comment