November 20, 2019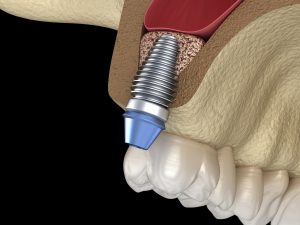 If you've lost a tooth or two over the years, you now have multiple options for tooth replacement. Although a traditional fixed bridge has been the go-to solution for decades, more people are turning to dental implants to treat their tooth loss. Crowns are still an effective option to secure a prosthetic tooth in place; however, a dental implant offers exceptional advantages that aren't possible using the traditional method. Here's what you need to know to choose the right option to rebuild your smile.

Crowns VS Dental Implants
A crown is a custom-made cap bonded over the entire surface of a tooth above the gum line. Most often, it's used in restorative dentistry to repair damaged teeth, like those with large areas of decay or significant breaks. They are also used for several other purposes as well because they are quite versatile, like to anchor a bridge in place.
A bridge is used to replace 1 to 3 consecutive missing teeth. Your dentist uses all-ceramic material to replicate the portions of the teeth above the gum line to restore a complete smile. The adjacent teeth are reshaped to bond dental crowns over them to hold the bridge in place.
Although this method is effective, it requires you to permanently change healthy teeth. Not to mention, you'll need to have your bridge and crowns replaced every few years. Dental implants resolve the disadvantages of crowns while also offering a few other benefits.
A dental implant replaces the entire structure of a tooth, including the root. A titanium implant post is surgically placed into the jaw to act as a root. Your jaw fuses to the post to provide a secure foundation for your replacement tooth. If you're missing multiple teeth, each tooth isn't replaced individually. Instead, an implant post is used at either end to support it.
Benefits of Dental Implants
The combination of materials and method used to replace lost teeth allow dental implants to provide unmatched benefits when compared to a crown, including:
Over a 95% success rate to last for several decades.
Doesn't rely on healthy teeth for support.
Doesn't alter healthy teeth.
Replaces the entire tooth structure.
Looks and feels natural.
Preserves your jawbone's density to stop dental drift.
Improves your oral health.
Supports your facial tissues.
Cost-effective, long-term solution.
Invest in a Complete Smile
You can enjoy the next best thing to your real teeth with dental implants. Your dentist will perform a comprehensive consultation to determine if a bridge and crowns or dental implants is right for you. Give yourself a confident, functional smile using the latest tooth replacement solutions in dentistry.
About Blanco Circle Dental Care
Blanco Circle Dental Care is known for comprehensive, gentle, personalized services catering to your specific needs. We embrace the latest innovations in dentistry to treat even complex oral health cases, like tooth loss. We offer the solutions you need to rebuild your smile. If you're interested in dental implants, contact our office today to schedule your consultation.
Comments Off

on Are Dental Implants Better than Crowns?
No Comments
No comments yet.
RSS feed for comments on this post.
Sorry, the comment form is closed at this time.