April 21, 2019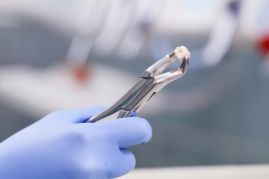 Tooth extractions aren't anyone's idea of fun, but they are sometimes necessary to improve your oral health or relieve discomfort. If you've recently found out that you need a tooth extraction, it's natural to start wondering what the procedure will be like. But that partially depends on the reason your tooth is being taken out and the type of extraction a dentist recommends. Just as there are different types of dental fillings and crowns, there are also different types of extraction procedures, some of which are considered easier than others. Keep reading to learn more below and get an idea of what you can expect!
Why Are Some Extractions Easier Than Others?
Tooth extractions fall into two categories: simple and surgical. Just as the name implies, a simple extraction is a less involved procedure that can be done without surgery.
These procedures are considered easier because the tooth has fully "erupted," meaning it's come through the gums and can clearly be seen in the mouth. This makes it possible for a dentist to simply grasp the tooth with forceps and remove it in one piece. And, since an incision isn't required to access the tooth, stitches aren't necessary.
How Is a Surgical Extraction Done?
The word "surgery" can be intimidating to many people because it's usually associated with major procedures at a hospital that require general anesthesia. However, healthcare providers refer to anything that requires an incision as a surgery, which includes some dental extractions.
A surgical extraction is recommended when a tooth isn't accessible and requires a small incision to get to it, as well as stitches to promote healing afterward. It's often necessary in the following situations:
A tooth (most commonly a wisdom tooth) hasn't come in at all or has only partially erupted through the gums.
When the root of the tooth has broken into small pieces.
In a dental emergency, such as when a tooth has broken off at the gumline and can't easily be grasped with forceps.
In some cases, even the tooth itself may need to be cut into smaller pieces so it can be removed. But rest assured that, regardless of which type of extraction you need, your dentist will make sure you're completely numb and comfortable from the very start.
In addition to local anesthesia, a dentist can also use modern sedation techniques to further relax you and make your procedure stress-free.
Although extractions are a last resort, they improve your oral health and help you have a better smile over the long-term. And since modern dentists make your comfort a top priority, the procedure is a lot easier than you would expect!
About the Author
Dr. Gary Klugman is a general, cosmetic and restorative dentist who has decades of experience, advanced training, and a reassuring chairside manner. He's also regarded as an expert in the field of sedation dentistry and can provide a great dental experience during any procedure. If you have any questions about extractions, he can be contacted via his website.
Comments Off

on Dentist Explains Why Some Tooth Extractions Are Easier Than Others
No Comments
No comments yet.
RSS feed for comments on this post.
Sorry, the comment form is closed at this time.