September 24, 2014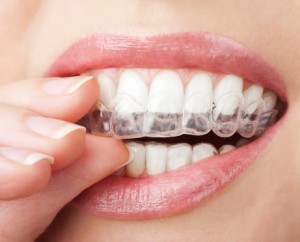 The idea of living your days with traditional brackets with wires associated with traditional braces may be enough to deter you from seeking the orthodontic treatment you need. Though you want a straighter smile, having a mouth full of metal is unpleasant, and can be very uncomfortable. Although you may think nothing can be done to give you the straight smile of your dreams, Dr. Gary Klugman and Dr. Christina Bianco are able to align your smile seamlessly with ClearCorrect Invisible Braces.
ClearCorrect works through a series of nearly invisible straightening trays. Each tray symbolizes a new step in your straightening process, and they are custom made just for you. By having your trays made just for your smile, not only does this ensure amazing results, but it makes your orthodontic treatment personalized to you. The trays are practically undetectable on your smile, making it look like you are not wearing your trays at all! You are able to be discreet in your treatment while getting the straight smile you have been wanting. When you are ready to begin a new phase in your treatment, simply dispose of the tray you were wearing and apply the next one in the series. It is as simple as that!
One of the great benefits to ClearCorrect is that you will have better oral health than you would with traditional braces. When you need to brush, eat, floss, or drink, all you have to do is remove and reapply the tray when needed. Also, you are able to experience complete freedom in your diet with ClearCorrect. No food is off limits, allowing you to truly enjoy your treatment. If you would like our doctors to help align your smile using ClearCorrect, contact our office today!
At Blanco Circle Dental Care, Dr. Gary Klugman and Dr. Christina Bianco provide quality general, cosmetic and sedation dentistry services. Our Salinas, CA dental office serves patients from Hollister, Monterey, Seaside, Prunedale, Marina, Greenfield, Gilroy, and King City. Call us today to schedule your next appointment.
No Comments »
No comments yet.
RSS feed for comments on this post.
Leave a comment