January 22, 2015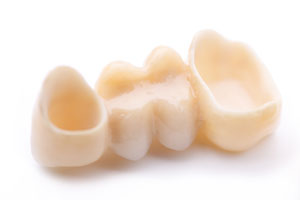 If you are missing teeth—even if you are only missing one tooth—then you know the consequences can be dire. You may be reluctant to speak or smile because you are self-conscious about missing teeth. And then there is the issue of not having a fully nutritious diet because you are unable to eat certain foods, such as raw fruits and vegetables. Obviously, replacing missing teeth is imperative. Fortunately, Dr. Gary Klugman and Dr. Christina Bianco of Blanco Circle Dental Care in Salinas, CA, are highly experienced in the art of crown and bridge restorations.
What is a Crown and Bridge?
A bridge is a prosthetic dental device that spans the gap left by a missing tooth or teeth. The gap is filled with what is called a pontic, or false tooth. The bridge is firmly held in place by crowns that are attached to the teeth on either side of the gap. Hence, the complete prosthetic is commonly referred to as a crown and bridge.
If you and your dentist determine that a crown and bridge is your best option for tooth replacement, then we'll take x-rays and impressions of the area that is missing teeth in order to fabricate a bridge that looks natural with your other teeth. The anchor teeth—those on either side of the missing tooth—will be prepared for crowns. Another impression of the prepared teeth will be taken in order to ensure the bridge fits snuggly in place. While your custom crown and bridge is made in a dental lab, we'll give you a temporary to wear. Then, in a few weeks, you'll return to the office of Blanco Circle Dental care to have your permanent crown and bridge fitted and cemented into place.
Schedule an Appointment Today
If you would like to learn more about a crown and bridge for tooth replacement, call the office of Blanco Circle Dental Care in Salinas, CA. Our dentists and their team also serve patients from Hollister, Monterey, Seaside, Prunedale, Marina, Greenfield, Gilroy and King City and beyond.
No Comments »
No comments yet.
RSS feed for comments on this post.
Leave a comment