October 22, 2014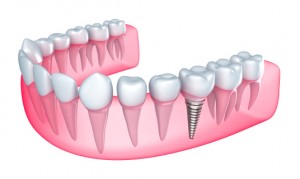 One thing that many people strive for is a beautiful, full smile. Having a beautiful smile is a symbol of health and youth, and many people consider a smile a first impression. Because of this, many people are willing to do whatever it takes in order to have a smile that looks amazing. Unfortunately, if you have a smile that is not complete, you may find it difficult to feel confident in the way you look, and could feel embarrassed when you are with other people. Though you may have considered dentures and partials as teeth replacements, you may be wanting a solution that is more permanent. Thankfully, Dr. Gary Klugman is able to give you the smile you have always wanted by offering dental implants at his Salinas, CA dental office.
The first step to getting your dental implants is a consultation with Dr. Klugman. He will have to evaluate your smile in its current state, assess your jaw bone density, and discuss how you would like your smile to look. During the consultation, you will be able to have any questions or concerns you may have addressed, and we want to be sure you are knowledgeable and comfortable throughout the entire process.
If you are a candidate for dental implants, a titanium screw-like post will be embedded into your jaw. As it heals, the post will fuse with the bone in your jaw, promoting new and healthy bone growth. This will also establish a strong hold, ensuring your new smile is stable and secure. After the healing period, the restoration, also known as a crown, is added atop the implant. The crown looks exactly like a tooth, so your new smile will look natural. At the end of the procedure, you are left with a beautifully full smile that you cannot wait to show off! If you would like Dr. Klugman's help restoring your smile with dental implants, contact our office today!
At Blanco Circle Dental Care, Dr. Gary Klugman and Dr. Christina Bianco provide quality general, cosmetic and sedation dentistry services. Our Salinas, CA dental office serves patients from Hollister, Monterey, Seaside, Prunedale, Marina, Greenfield, Gilroy, and King City. Call us today to schedule your next appointment.
No Comments »
No comments yet.
RSS feed for comments on this post.
Leave a comment