August 8, 2014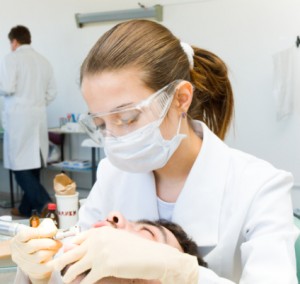 There are many things people are afraid of, and one of the most common fears out there is the fear of the dentist. Though the fear may be mild for some, for others, it can be crippling. Having a severe fear of the dentist can cause someone to not get the dental work they need performed, resulting in them living life with an unhealthy smile. Because Dr. Gary Klugman and Dr. Christina Bianco understand this fear, they are able to offer sedation dentistry to their patients.
One form of sedation that we offer is oral conscious sedation. This involves taking a pill orally prior to your appointment, and causes you to become very relaxed and feel no pain. You will be conscious while your dental work is being performed, letting you be able to answer any questions and be responsive. Because the effects of the sedation will still be in effect after your appointment, it is important to find a loved one to bring you home after your appointment.
The other option we have is nitrous oxide sedation, also known as laughing gas. We administer this form of sedation via a nasal mask, and Dr. Klugman will be in control over how much nitrous to administer. You will not feel any pain, and the effects of the sedation will end when the nasal mask is removed. Lastly, we offer IV sedation, which is most commonly used during long dental procedures. We administer the sedation intravenously, and Dr. Klugman will have control over how much sedation is administered. We will also monitor all of your vital signs, such as your heart rate and breathing. This is an excellent option for those who suffer from TMJ and who find it difficult to keep their mouths open for extended periods of time.
If you feel as though you can benefit from sedation dentistry and would like Dr. Klugman's help, contact our office today!
At Blanco Circle Dental Care, Dr. Gary Klugman and Dr. Christina Bianco provide quality general, cosmetic and sedation dentistry services. Our Salinas, CA dental office serves patients from Hollister, Monterey, Seaside, Prunedale, Marina, Greenfield, Gilroy, and King City. Call us today to schedule your next appointment.
No Comments »
No comments yet.
RSS feed for comments on this post.
Leave a comment