May 23, 2014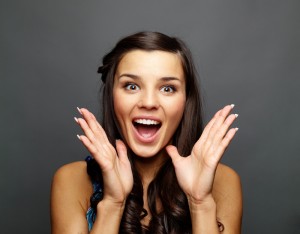 The color white is almost always associated with positive thoughts. It represents purity, cleanliness, and creativity. White is also an amazing color when it comes to the color of your teeth! A healthy, beautiful white smile is something a lot of people strive for, and they may think that it is impossible to achieve. Dr. Gary Klugman and Dr. Christina Bianco are able to give their patients the beautiful white smile they have always dreamt of by using teeth whitening in their Salinas, CA dental office.
There are two ways we are able to whiten the smiles of our patients. One is with in-office teeth whitening. We use Opalescence to whiten your smile, as well as a hydrogen peroxide treatment that takes onto thirty seconds!
Another way to whiten your smile is with our at-home teeth whitening. We still use Opalescence with our at-home whitening, but with this option, we will supply you with customized trays made to fit your mouth and your mouth only. We will also give you a professional-grade whitening solution and instructions on how to use the system. In only a few applications, your smile will be noticeably whiter!
One of the benefits to whitening your smile is the fact that you will have a new sense of confidence. Many people consider a smile a first impression, and when you are confident enough to show off your smile at any given moment, you will have a profound and memorable effect on people. If you are interested in how the doctors at Blanco Circle Dental Care can help give you a whiter smile, make an appointment today, and we will be happy to help!
At Blanco Circle Dental Care, Dr. Gary Klugman and Dr. Christina Bianco provide quality general, cosmetic and sedation dentistry services. Our Salinas, CA dental office serves patients from Hollister, Monterey, Seaside, Prunedale, Marina, Greenfield, Gilroy, and King City. Call us today to schedule your next appointment.
No Comments »
No comments yet.
RSS feed for comments on this post.
Leave a comment