December 23, 2013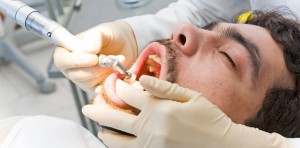 A lot of people have different phobias and fears, each unique to the other. A common phobia is fear of the dentist, called dentophobia or odontophobia. Thankfully at Blanco Circle Dental Care, Dr. Klugman is here to calm your qualms about going to the dentist by offering sedation dentistry.
Dr. Klugman is one of only 500 dentists in the state of California certified in sedation dentistry, so you are sure to be in excellent hands. We offer oral conscious Sedation, Nitrous Oxide sedation, IM (intramuscular) and IV sedation. Oral conscious sedation involves orally taking medicine before your appointment, and gives you the relaxed feeling you need. You remain conscious during the procedure, so that you can answer any questions the doctor may have. Nitrous Oxide sedation, also known as laughing gas, is administered through a nasal mask. Dr. Klugman controls the amount of Nitrous you receive, allowing you to have a comfortable experience. As soon as the mask is removed, the effects diminish, leaving no residual drowsiness. IM or IV sedation is often used during long procedures. Being a controlled form of sedation, Dr. Klugman gives you the right amount depending on your anxiety level. Great for patients with a sensitive gag reflex or who suffer from TMJ disorder, this form of sedation allows you to keep your mouth open for long periods of time.
No matter what form of sedation is right for you, here at Blanco Circle, Dr. Klugman and the rest of the team are here to make sure your experience at the dentist is top notch.
At Blanco Circle Dental Care, Dr. Gary Klugman and Dr. Christina Bianco provide quality general, cosmetic and sedation dentistry services. Our Salinas, CA dental office serves patients from Hollister, Monterey, Seaside, Prunedale, Marina, Greenfield, Gilroy, and King City. Call us today to schedule your next appointment.
No Comments »
No comments yet.
RSS feed for comments on this post.
Leave a comment