May 22, 2015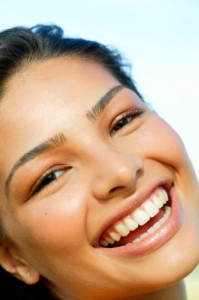 So, you've decided to whiten your teeth. Good for you! Really. After all, researchers have found that people with white teeth are considered to be smarter, more out-going and—no surprise—more attractive than people whose smiles are not white. Now, you must decide how you're going to whiten your teeth. What if you could choose a treatment that kept your smile bright and white indefinitely? Bright White Forever is a plan that Dr. Gary Klugman and Dr. Christina Bianco at Blanco Circle Dental Care offer to patients in and around Salinas, CA, to help them not only maintain white smiles, but healthy smiles, too.
At Blanco Circle Dental Care, we do offer both in-office and take-home teeth whitening with Opalescence products. These treatments, however, can cost as much as $350. With White Bright Forever, you only pay an initial membership fee of $89! For this price, you'll receive bleaching trays that are custom-made to fit your mouth, as well as professional grade whitening gel. Simply fill the trays and wear them whenever you have the time, and you'll soon have a whiter and brighter smile right in the comfort of your own home.
Bright White Forever and You
In return for this great deal, the dentists and their staff at Blanco Circle Dental Care only ask that you:
Schedule regular dental checkups. To remain a member-in-good-standing in the Bright White Forever program, we'll need to see you in the office at least twice each year for regular exams. These checkups help ensure your dental health. In addition, when you come to our office for one of these visits, we'll give you more bleaching gel.
Provide 48 hours notice if you need to reschedule or cancel an appointment. We're happy to reschedule your checkup, but please let us know in advance so we can offer your time slot to another patient.
Call Our Office Today
If you'd like to learn more about Bright White Forever, or if you're ready to schedule a checkup, then call Blanco Circle Dental Care. We conveniently serve patients in Salinas, CA, as well as Hollister, Monterey, Seaside, Prunedale, Marina, Greenfield, Gilroy and King City and beyond.
Older Posts »