January 22, 2014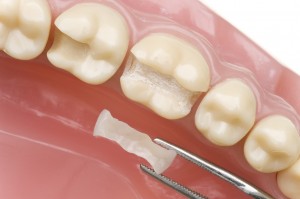 There is no doubt people are very particular about how they want their smile to look. After all, a smile is a first impression, and you want to make the best first impression possible. At Blanco Circle Dental Care, we are here to make sure your smile looks exactly the way you want it to, which is why we offer tooth-colored fillings.
There are many reasons why people choose tooth-colored fillings. One of the more popular reasons is because tooth-colored fillings help you avoid the look of having a mouth full of metal. Many people want a more natural look when it comes to their dental work, and tooth-colored fillings are able to give you that look. The important aspect about fillings is the fact that it saves your tooth. When there is a cavity or decay, our doctors remove the decay and fill the space with your desired filling. If not treated in the proper amount of time, the problem can worsen, even leading toward bone loss.
One of the benefits of having tooth-colored fillings is that it gives you back the confidence you may have lost feeling insecure about your smile. If you aren't proud of your smile, it can completely alter the way you interact with people and how you view yourself. There is no doubt our experience team is able to restore your confidence and bring your smile to the next level. If you're interested in tooth-colored fillings, contact our office and will be happy to help you on your journey of dental health!
At Blanco Circle Dental Care, Dr. Gary Klugman and Dr. Christina Bianco provide quality general, cosmetic and sedation dentistry services. Our Salinas, CA dental office serves patients from Hollister, Monterey, Seaside, Prunedale, Marina, Greenfield, Gilroy, and King City. Call us today to schedule your next appointment.
No Comments »
No comments yet.
RSS feed for comments on this post.
Leave a comment