November 25, 2013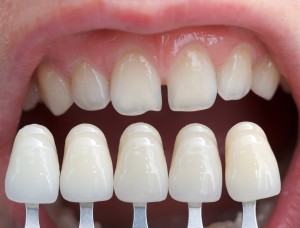 From the birds in the sky to the trees planted in the ground, everything in life ages and weathers. Unfortunately, your teeth are no exception. Over time, things like coffee, tea, and certain foods can drastically alter the look and luminosity of your smile. Luckily at Blanco Circle Dental Care, porcelain veneers are a wonderful option to bring your dull smile back to life in as little as two appointments!
With years of experience and knowledge, Dr. Bianco or Dr. Klugman are experts in cosmetic dentistry, assuring you'll be in excellent care from beginning to end. We begin your transformation with our knowledgeable team assessing the state of your smile. We ask you questions about how you would like your end result to look, aftercare, and any other concerns you may have. Once we've determined if you're a candidate, we take impressions of your mouth and send them to a lab for you custom made veneers. When your natural teeth are prepared and ready to go, we wrap a thin layer of porcelain around them, and apply dental resin cement to make the veneer permanent. In the end, you're left with nothing but a beautiful, impeccable smile.
Some of the reasons why porcelain veneers are such a popular choice are because they are stain resistant and can last for many years. They can be used to protect an already damaged tooth, fill in gaps between, and lengthen teeth. Porcelain veneers look very natural, not making it obvious you had cosmetic work done; they can change the way you look at yourself and interact with others. A simple process with everlasting results, schedule an appointment to change your life and your smile forever!
At Blanco Circle Dental Care, Dr. Gary Klugman and Dr. Christina Bianco provide quality general, cosmetic and sedation dentistry services. Our Salinas, CA dental office serves patients from Hollister, Monterey, Seaside, Prunedale, Marina, Greenfield, Gilroy, and King City. Call us today to schedule your next appointment.
No Comments »
No comments yet.
RSS feed for comments on this post.
Leave a comment