April 8, 2015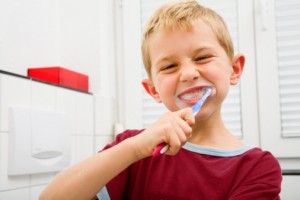 Your children depend on you to take care of them, look out for them, teach them and guide them. That includes, well, about a million different things and one of those is making sure they are on the path toward a lifetime of good oral health. Naturally, that means you need to find a dentist who can properly care for your children's teeth. Dr. Gary Klugman and Dr. Christina Bianco at Blanco Circle Dental Care in Salinas, CA, provide children's dentistry that is professional, compassionate and comfortable.
Actually, parents are the ones who first make sure their kids take dental care seriously. When you model a good at-home regimen of brushing and flossing your teeth every day, then your children know that this is important to you and it is more likely to be something they'll want to do, too. In fact, you can make brushing teeth a family activity that you do each night before bed!
Visiting the Dentist
Sometime before their third birthdays, we want to see them at Blanco Circle Dental Care. Their first appointment will be as relaxed and pleasant as possible. We'll count their teeth and examine carefully for any signs of tooth decay, and we'll also evaluate the health of their gums. Yes, children can get gum disease. If they seem ready, we'll also clean their teeth, too.
Many times, children need a little help in the battle against the bacteria that causes decay. To help, Dr. Klugman or Dr. Bianco may recommend fluoride treatments or dental sealants. Fluoride is a mineral that has been proven to strengthen teeth's enamel, your children's natural and first line of defense against cavities. Dental sealants are white or clear plastic coatings that are "painted" on to your children's molars to create a physical barrier between teeth and bacteria.
Schedule an Appointment Today
If it's time for your children to see the children's dentist Salinas depends on, then call the office of Blanco Circle Dental Care. We conveniently serve patients in Salinas, CA, as well as Hollister, Monterey, Seaside, Prunedale, Marina, Greenfield, Gilroy and King City and beyond.